Kimberley Coastal Camp in the far north of Australia is one of our favourite places in the Kimberley region. With no ensuites, only cold showers, and sandy floors it may be seen as an odd choice but these details are minor compared to the incredible experience you will have. This unique destination is so remote that there is no road access, and with a maximum of just 16 guests, you will truly feel like you are one of the luckiest people on earth.
The small lodge is nestled unobtrusively on the pristine shores of the Admiralty Gulf, opposite the Mitchell Plateau and famous Mitchell Falls in one of the most beautiful and remote parts of the Kimberley. The camp has been built in a rustic style with timber beams and corrugated roofing with an eclectic combination of books, fishing tackle and beachcomber treasures for decoration. There are no pre-set itineraries here. You set the pace and can be as active or laid back as you like.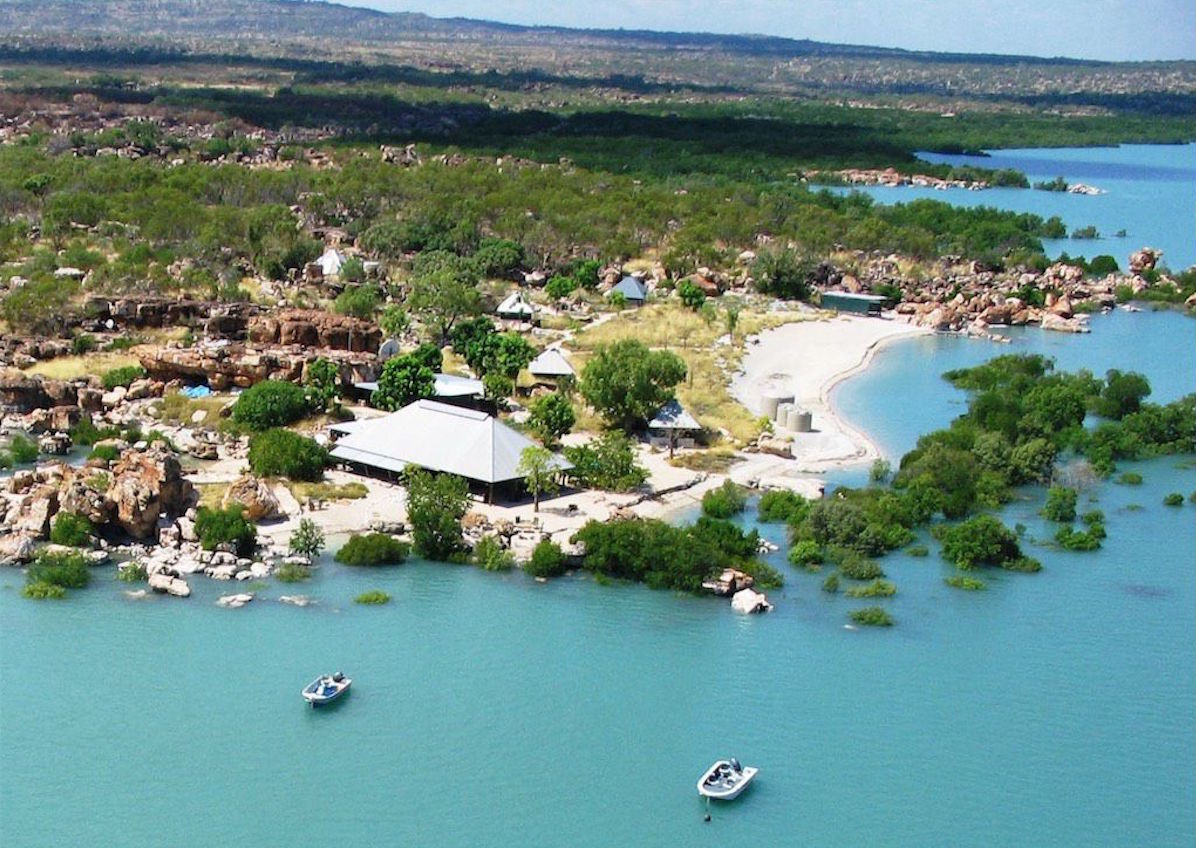 The area is a fisherman's paradise and if you can catch it, they can cook it!  Guided bush walks take you to Aboriginal rock art galleries that include the unique Bradshaw paintings and the younger but equally beautiful Wandjina art.  Other activities during your stay will include boat trips to fish, visits to remote islands and beaches or even a helicopter flight over the Mitchell Falls.
This is one of the least explored and most spectacular coastlines in Australia – the craggy cliffs coming down to the water's edge, with sandstone and shell covered beaches make this area nearly inaccessible.  All the ingredients for a perfect wilderness holiday are here – a pristine environment, deserted beaches, wildlife and birds, marine adventure, delicious fresh food, a cooling pool and magnificent scenery.
The Lodge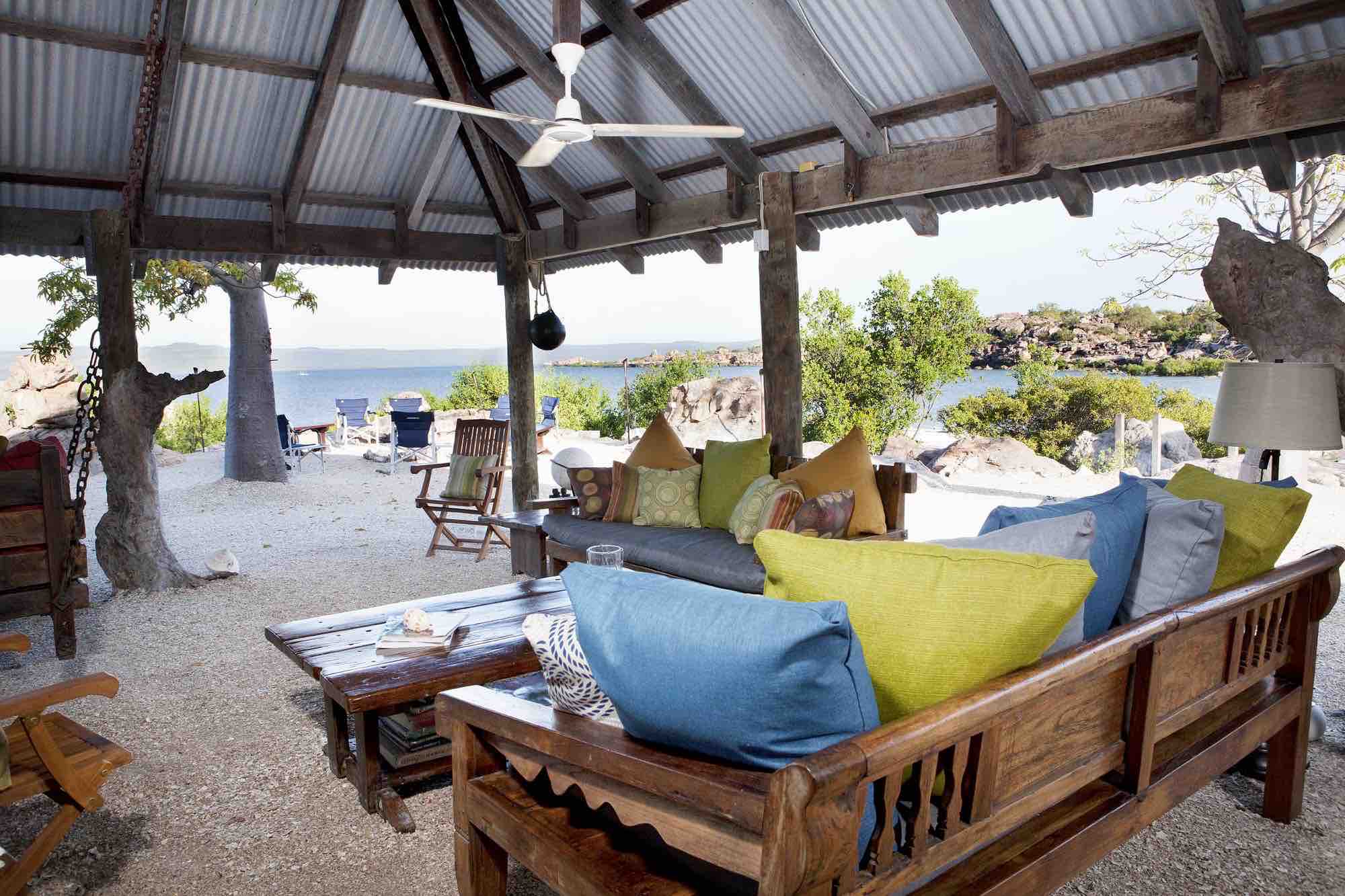 The 'Shed' is the open sided living area with high raked ceilings and is the place to socialise or chill out with a good book.  An open plan kitchen and 'help yourself to the fridge' attitude ensures a relaxed, friendly camp atmosphere. The nucleus of the lodge with its high raked ceilings is open to the gentle sea breezes and features rustic handmade furniture from recycled timbers, designer soft furnishings, a unique outback bar, and is the setting for wonderful gourmet meals Kimberley Coastal Camp has become famous for.
Accommodation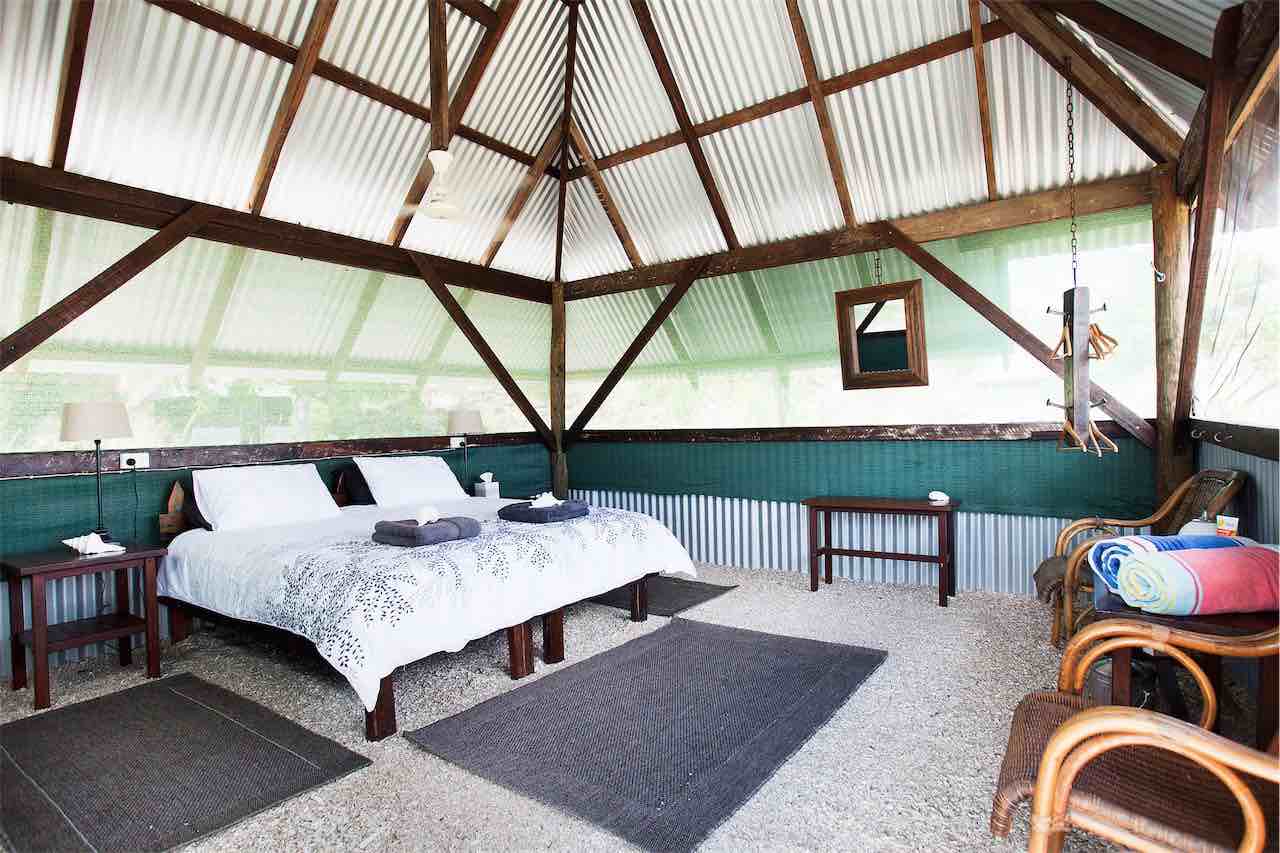 Accommodation is provided in hand built spacious guest gazebos scattered amongst native grasses and red sandstone. Just sixteen guests can be accommodated in the comfortable but simple wooden chaletsEach gazebo takes full advantage of the tranquil views over the Admiralty Gulf and is elegantly furnished with 5 star king size or twin single beds fitted with luxurious Sheridan linen, screened walls, handmade timber furniture, reading lamps and a ceiling fan.  Crushed coral and sand make up the floor with small bedside mats and there is a bedside lamp, mirror, bedside table and a fan.  The shared bathroom facilities that open to the sky are utterly in tune with this wild and remote environment and are not in any way an imposition.
Incredible Indigenous rock art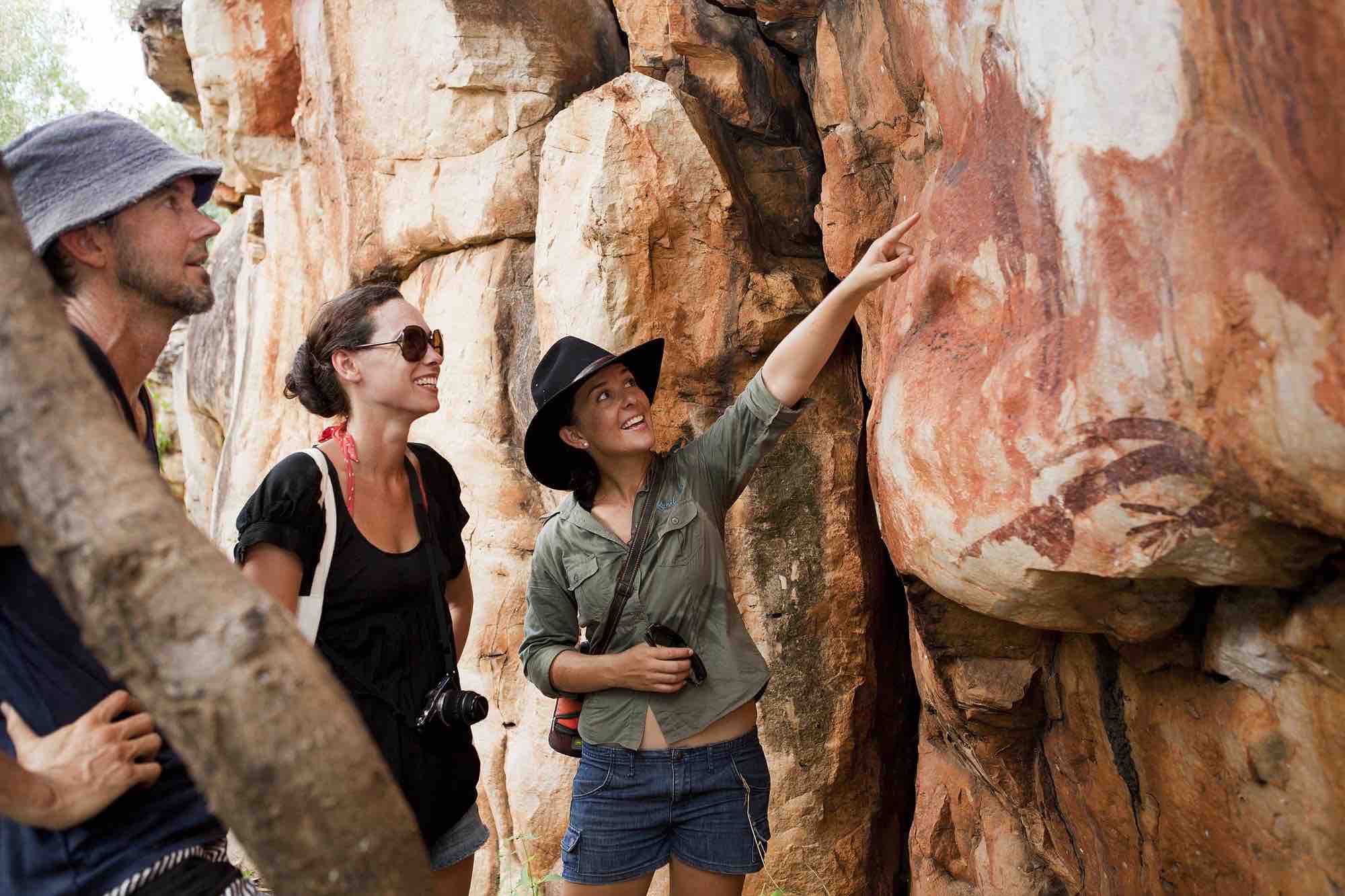 The ultimate in experiential travel, Kimberley Coastal Camp is ideally located at the centre of one of the world's finest repositories of indigenous rock art. With many rock art panels and caves within close walking distance, guests are invited to experience intimate encounters with this ancient culture via fully guided bush walks or scenic boat rides. The rare Gwion Gwion (Bradshaw) is dated no less than 17 500 years old (some suggest older) and is currently testing the world's best scientific minds. The more recent Wandjina rock art with radiating headdresses and mouthless faces decorate thousands of caves throughout this country known to traditional owners as Yalrundair.
Superb fishing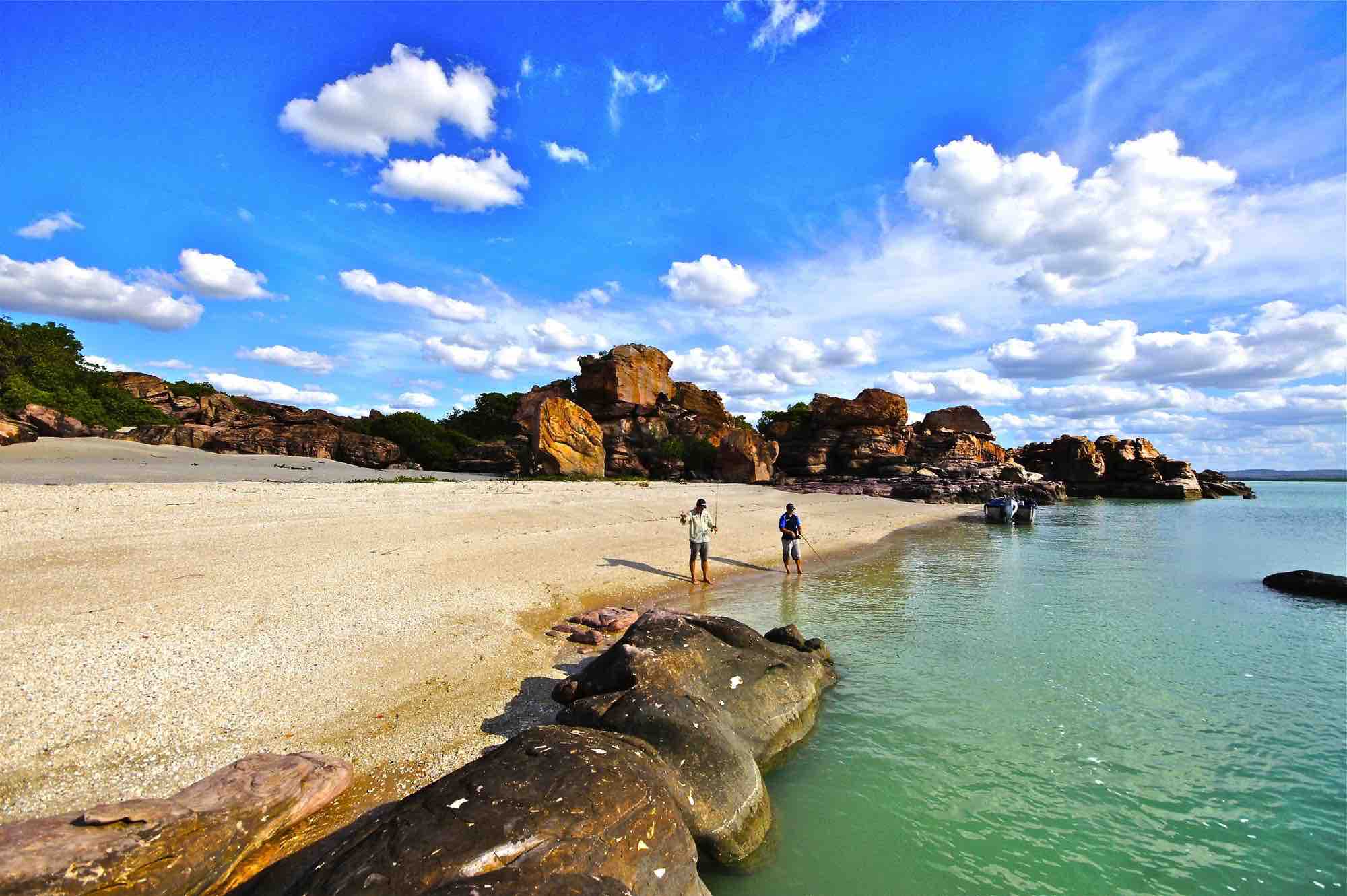 Superb fishing conditions entice the most avid anglers and adventurers. The Admiralty Gulf is considered one of Australia's greatest  fishing destinations. Guests can choose to take their catch ashore on an island fringed by Boab trees where our guide will prepare it 'bush style' on the open coals.
Even by Kimberley standards, Kimberley Coastal Camp is isolated. With access limited to helicopter and float plane, and numbers kept to a minimum, fishing here is for the privileged few.
Species
Fish these abundant waters for Barramundi, Mangrove Jack, Fingermark, Mulloway (Northern Black Jew Fish), Threadfin Salmon, Giant Trevally, Spanish Mackerel, Tuna, Queen Fish, Coral Trout, Blue Bone and numerous other tropical species. In one day it is possible to catch everything from Barramundi to Blue Bone to Blue Fin Tuna.
Fishing Conditions
Huge tidal rivers together with mangrove lined creeks, estuaries, flats, offshore reefs and islands as well as blue water, ensure an exciting variety of fishing options. Kimberley Coastal Camp is one of very few fishing destinations in Australia able to offer such diverse options to the keen angler.
Yalrundair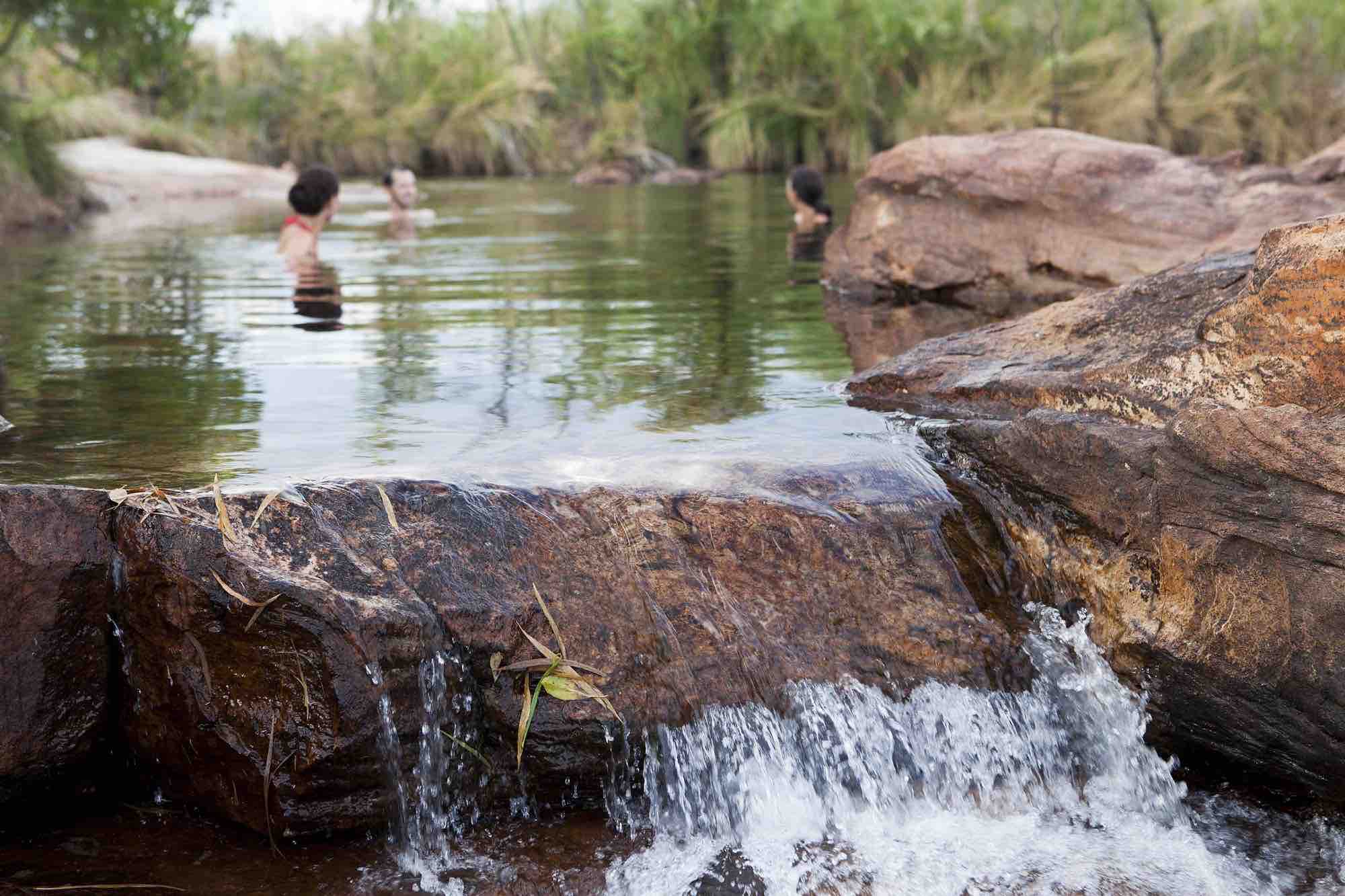 Wild dingoes, sea eagles, olive pythons, endangered quolls, and many other native animals share this country known to traditional owners as 'Yalrundair', a rich expanse of land made up of towering escarpments and sandstone rock formations. This is true wilderness, unspoiled by the introduction of feral animals, roads and pollution.
Guided walks cater to those wishing to venture on a short stroll or a challenging all day hike. Explore by boat scenic river systems and abundant bird life. Or relax on the daybed and admire wild dingoes, sea eagles and Brahminy kites as they descend at sunset to enjoy their share of the day's catch.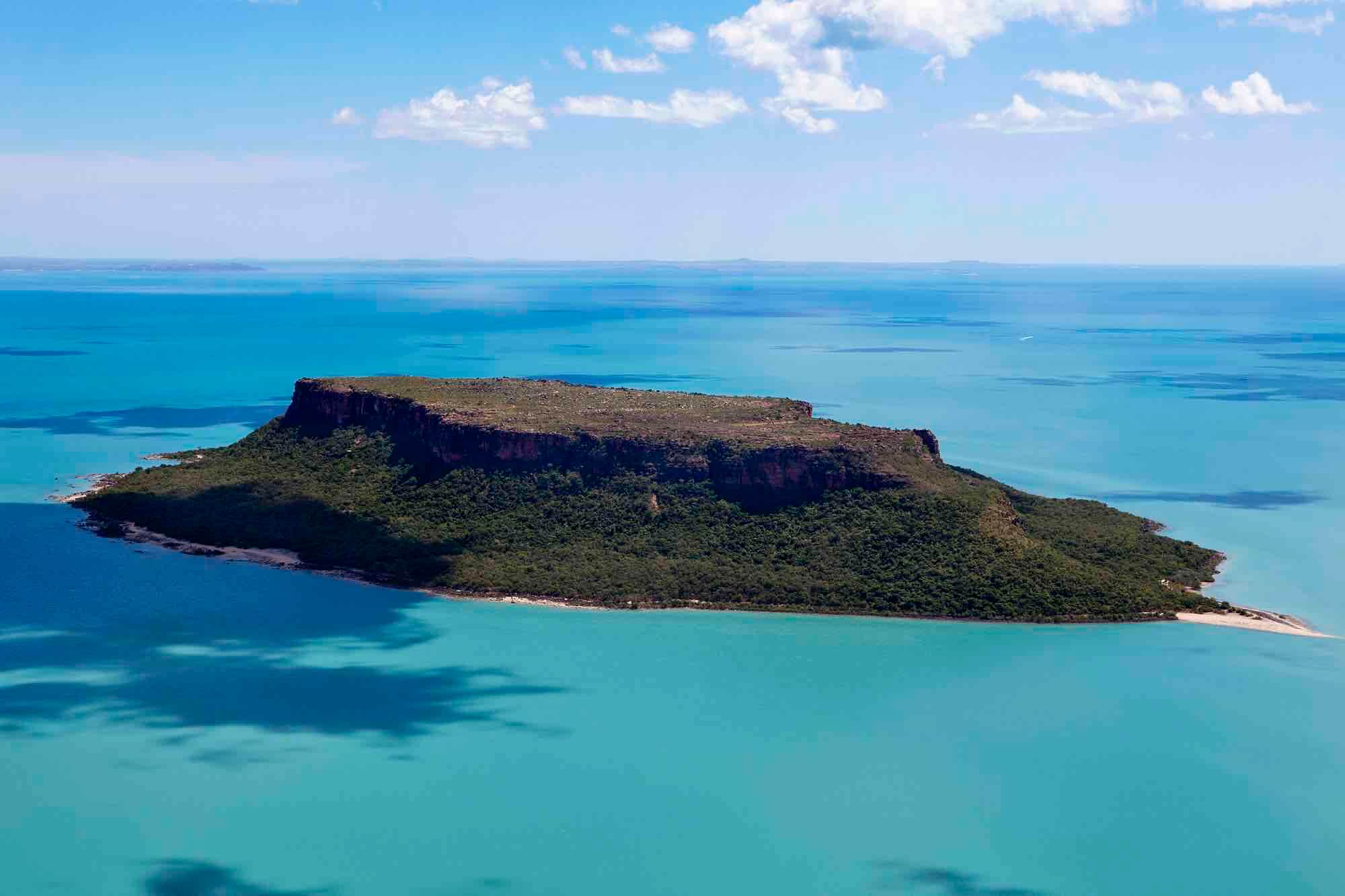 Kimberley Coastal Camp has been catering to the discerning traveller since 1994 with personalised itineraries, a staff to guest ratio of no less than 1 staff member per 3 guests, and gourmet food utilising fresh local produce and native Australian bush tuckers. This is hosted accommodation at its best.