Longitude 131, one of the Luxury Lodges of Australia is uniquely located in the Central Australian outback near World Heritage listed Uluru-Kata Tjuta National Park. Elise Johnson, Longitude 131°'s Sales Manager , tells us more.
Describe Longitude 131° in 3 words.
Timeless, spiritual and authentic.
Tell us a little bit about Longitude 131° and what makes it so unique beyond great food, great wine and a very comfortable place to sleep?
Imagine waking to the sight of Australia's most iconic view – the sacred red rock of Uluru – literally at the end of your bed! Situated discreetly adjacent to the World Heritage-listed Uluru-Kata Tjuta National Park, Longitude 131° offers 15 elevated luxury tents with unrivalled views of Uluru (Ayers Rock) and the surrounding desert landscape. A custom itinerary of guided experiences offer guests a first-hand encounter of Australia's Red Centre. Guests might walk among the majestic red domes of Kata Tjuta, dine outdoors under the stars and witness the changing lights over Uluru at the magic moment of sunset, with glass of champagne in hand. At Longitude 131°, we promise our guests a special connection with the spiritual heart of Australia, with that little touch of luxury!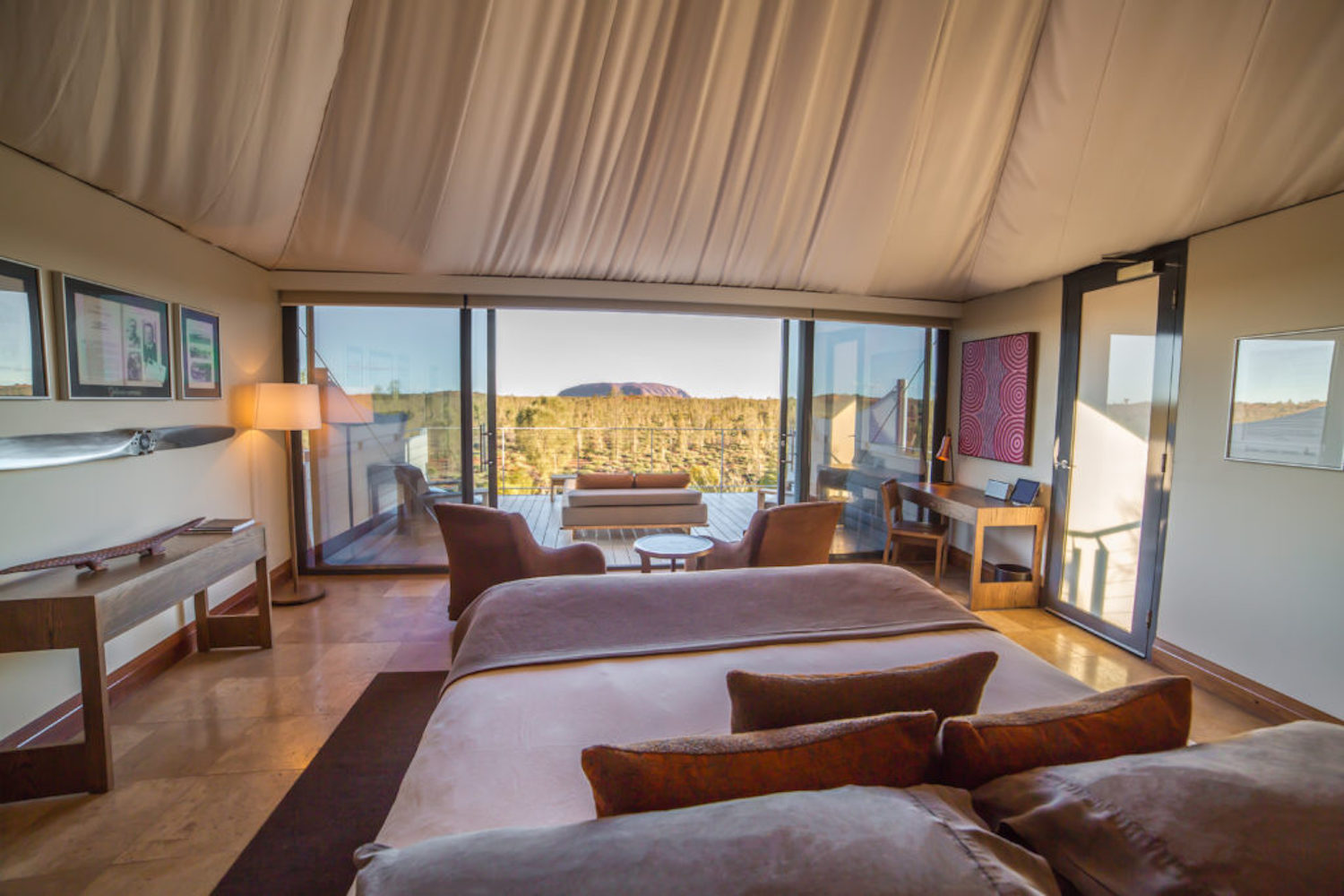 How is Longitude 131 pushing the boundaries in guest experiences?
An exceptional signature touring program designed exclusively for Longitude 131° guests is included in the wilderness experience and a personalised itinerary is presented upon arrival. This touring program showcases the world's largest monoliths: the Red Centre's gem, Uluru (Ayers Rock), and the sacred red domes of Kata Tjuta (The Olgas). For further exploration, we can arrange additional bespoke experiences that cater to a wide range of interests, including scenic helicopter flights, camel rides, motorcycle tours, dot painting workshops and plenty more!
At Baillie Lodges' we pride ourselves on our ongoing commitment to product excellence, the result of which our guests are thrilled to experience. One recent example is the iconic 'Field of Light' display, an incredible light installation created by British-born installation artist Bruce Munro. Longitude 131° guests have an exclusive experience of the interactive artwork as part of the lodge's Signature Experiences program. As the twilight cools the day, guests walk uninterrupted along the pathways in the Field of Light, just as the tiny buds are lighting up in the evening sky. When it's time to depart, the field is fully lit, mirroring the billions of stars in the midnight blue of the desert sky and offering an unforgettable transformation of the landscape. Field of Light will be lighting up the Red Centre until 31 March 2018 ~ you won't want to miss it!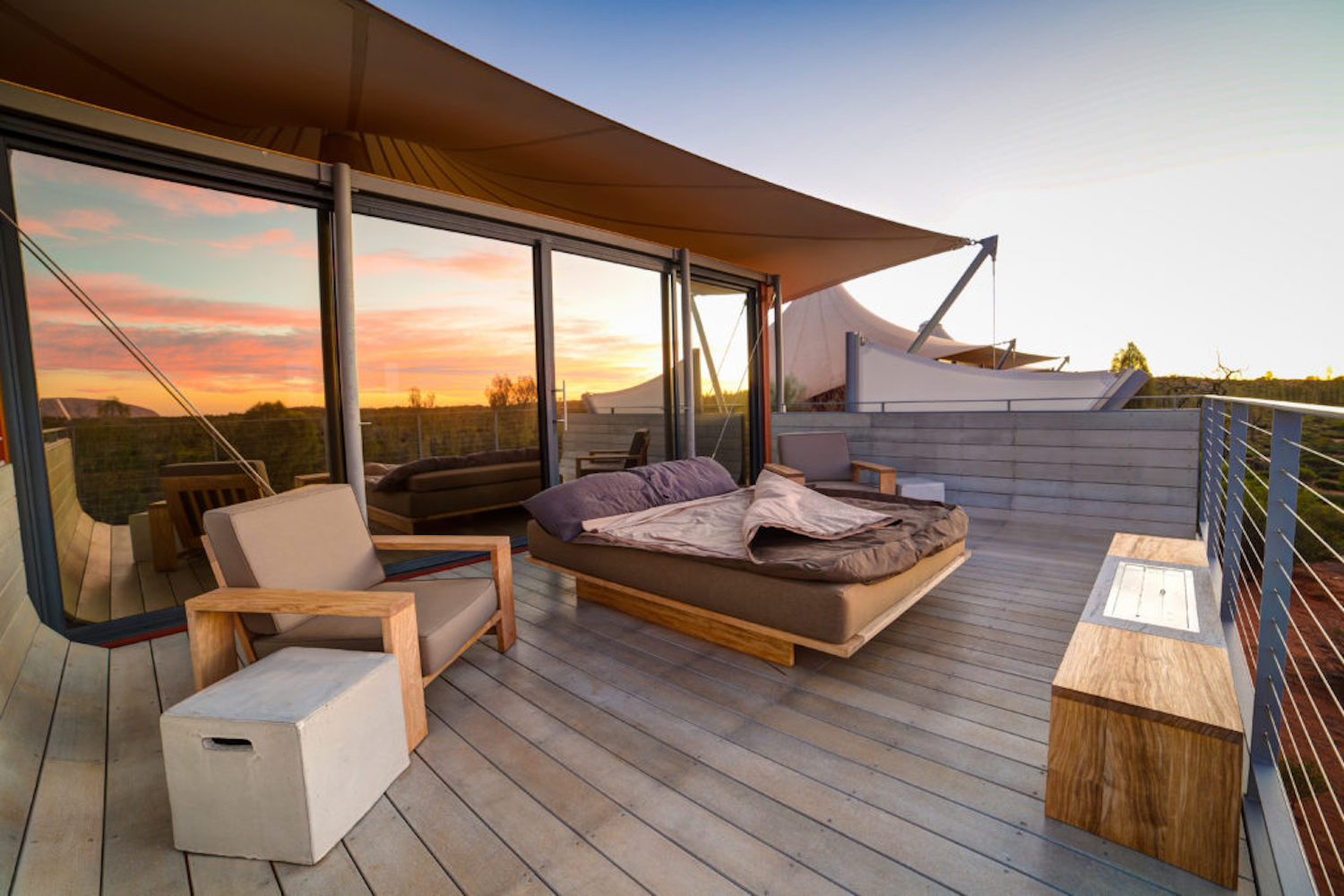 What's a recent (last 6 months) innovation at Longitude 131°?
Earlier this year, Longitude 131 revealed its new balconies, a modern addition to the existing tent-style pavilions that fit so naturally it's hard to imagine the tents without them. The balconies offer luxurious outdoor lounging with comfy armchairs, an EcoSmart fire for the evenings and generous daybed for relaxing into views of Uluru. A luxury evening turndown service includes an after-dinner snack with accompanying digestifs, and the rollout of the new custom-designed Baillie swag under the open night sky. Perfect for lazing and star-gazing under a blanket of stars, this is glamping at its most marvellous!
What activity should guests not miss during their stay at Longitude 131°?
A scenic helicopter flight showcasing spectacular bird's eye views of Uluru and Kata Tjuta, or further afield discover Lake Amadeus and Mount Conner.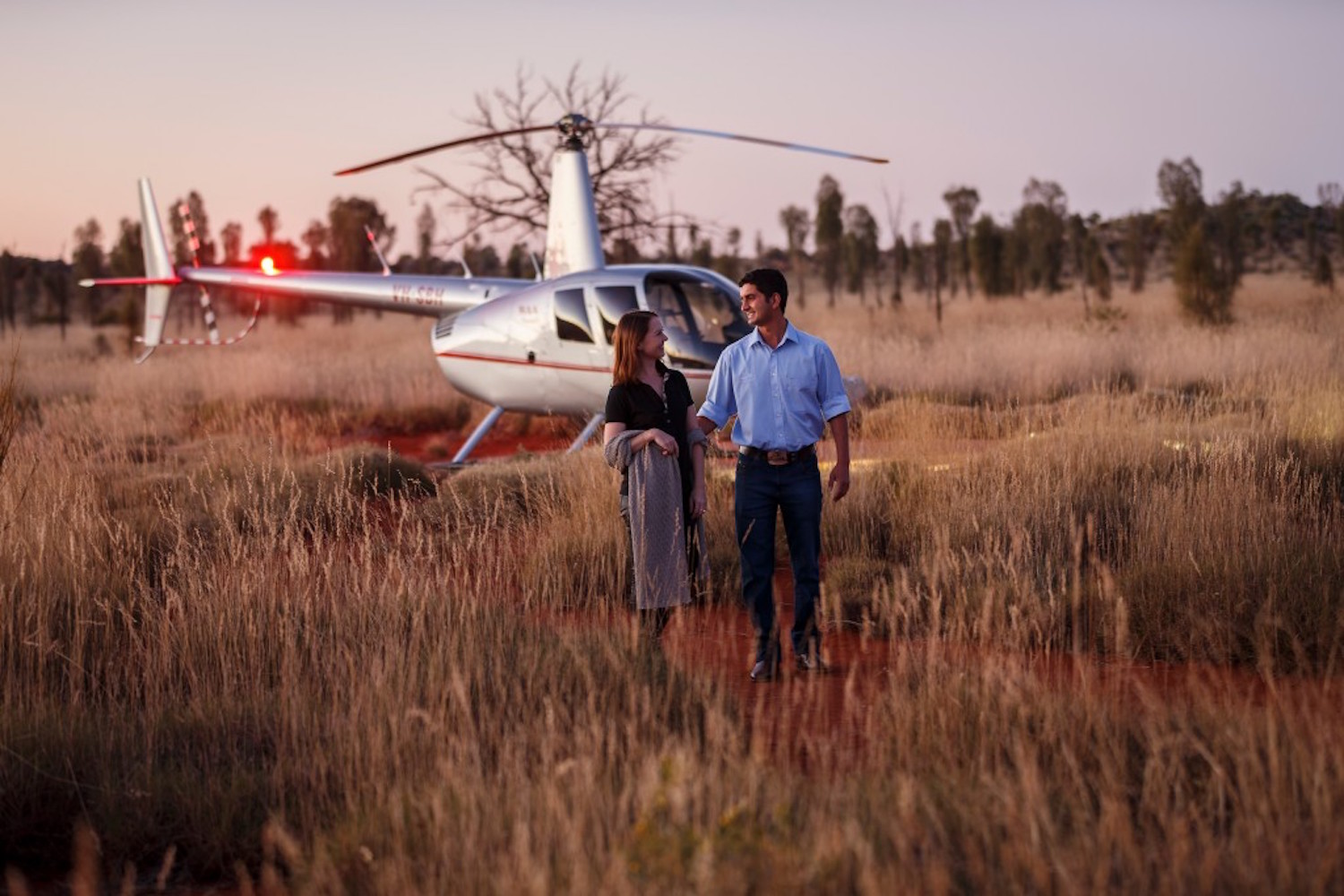 Best dining experience at Longitude 131°?
Our daily changing menus reflect the best of contemporary Australian cuisine, combined with outback flavours and native ingredients like lemon myrtle, quandongs and desert-foraged herbs to create a uniquely local dining experience. Whilst dining under the canopy of the Dune House, guests are encouraged to feel at home by helping themselves to a diverse range of Australian wines, beers and premium spirits from the open bar. There's always a friendly team member on hand to assist with mixing up a special 'outback' cocktail!
A truly memorable dining experience is Table 131°, a spectacular dinner under the stars enjoyed with fellow travellers among the red desert dunes. Guests are welcomed to their table by the sounds of the didgeridoo, reflecting on their day of discovery whilst enjoying four delicious courses complemented by the finest Australian wines. The evening is complete as our resident astronomer shares stories of the Southern night sky. Exclusive to Longitude 131°, Table 131° is an incredible outback experience like none other.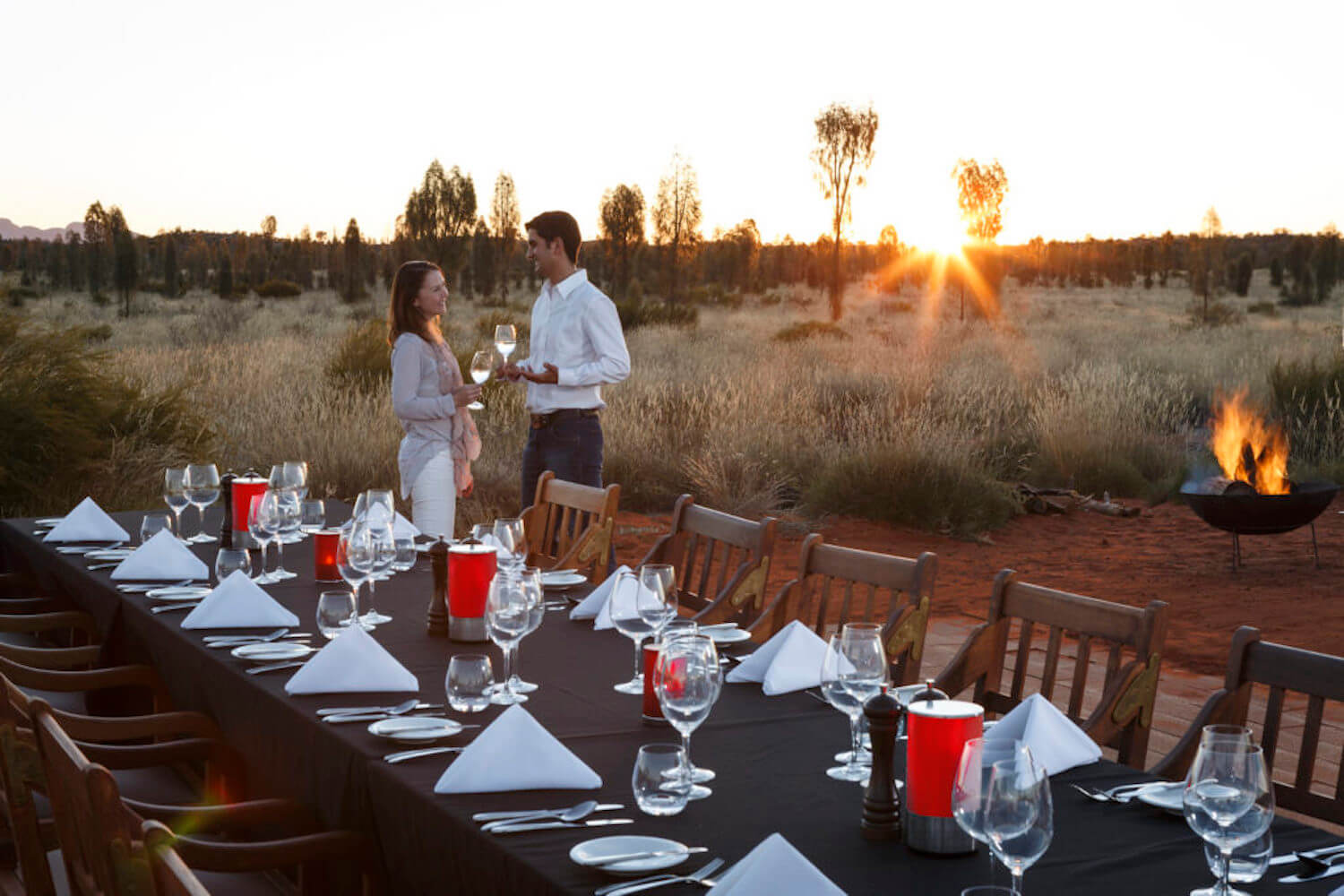 Please describe a typical guest at Longitude 131°.
There are no typical guests at Longitude 131, each are unique with their own personal desire for visiting this magical part of Australia!
Is Longitude 131° child friendly?
We welcome children 10 years and older at Longitude 131.
Is there anything else you'd like to add?
Longitude 131° makes a perfect outback complement to the coastal wilderness on offer at sister property Southern Ocean Lodge and to the subtropical coral reef paradise at Capella Lodge on Lord Howe Island. Let Alquemie create the ultimate luxury itinerary for your visit to Australia!
Elise Johnson
Sales Manager for Baillie Lodges (Southern Ocean Lodge, Longitude 131, Capella Lodge)
Elise Johnson is the Sales Manager for Baillie Lodges, a collection of intimate luxury lodges in unique wilderness destinations.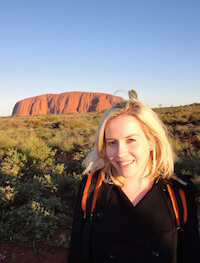 Click here to find out more about Australian travel with Alquemie