This 6-day Private Kimberley Helicopter Safari itinerary includes time at the Kimberley's most iconic and scenic sites, as well as overnight stays in the region's best luxury lodges and wilderness retreats – Berkeley River Lodge, Kimberley Coastal Camp and El Questro. The tours are private, and travelling by helicopter allows you the flexibility to land and explore remote and otherwise inaccessible areas as you wish. Imagine resting atop a mountain pinnacle to enjoy the sunset with your favourite cold drink, fishing in wild rivers, exploring galleries of the oldest rock art on earth, soaring through gorges and touching down to swim in secret springs and waterfalls…yep, this is definitely one for the bucket list.
Day 1 – Kununurra to Berkeley River Lodge
Lift off from Kununurra to soar over the Ord River following its path west past the huge farms of the Ord Irrigation area. View the incredible patterns in the mud flats surrounding the town of Wyndham where five huge rivers meet, emptying into the Cambridge Gulf where some of the Kimberley's biggest estuarine crocodiles live.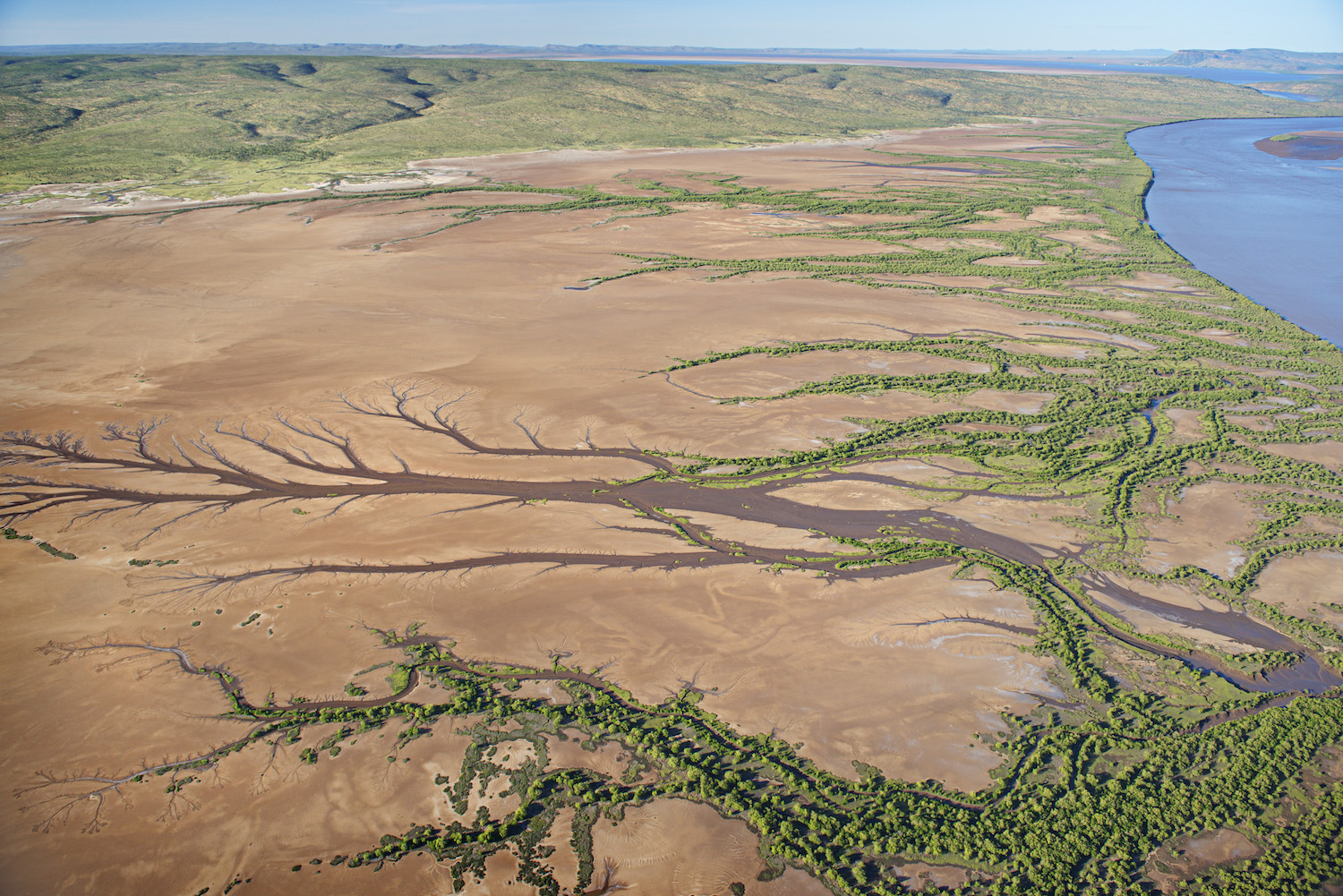 Crossing the Gulf you'll pass over ancient traditional lands of the Balangarra people. Flying onwards, the ranges rise ahead with the watercourses of the De Lan Court and Berkeley Rivers beneath you. Land at a scenic location to enjoy refreshments in a place where few others have ever been before. Fly low through the gorges of the Berkeley River to the Timor Sea and land at the oceanside helipad of the Berkeley River Lodge in time for breakfast.



 In a completely secluded wilderness location that is accessible only by air or boat Berkeley River Lodge is nestled between the impressive backdrop of the beautiful Berkeley River and the breathtaking Timor Sea and is comprised of 20 luxury 1 bedroom chalets set on the sand dunes with 180 degree ocean or river views.
Day 2 – Berkeley River Lodge to Kimberley Coastal Camp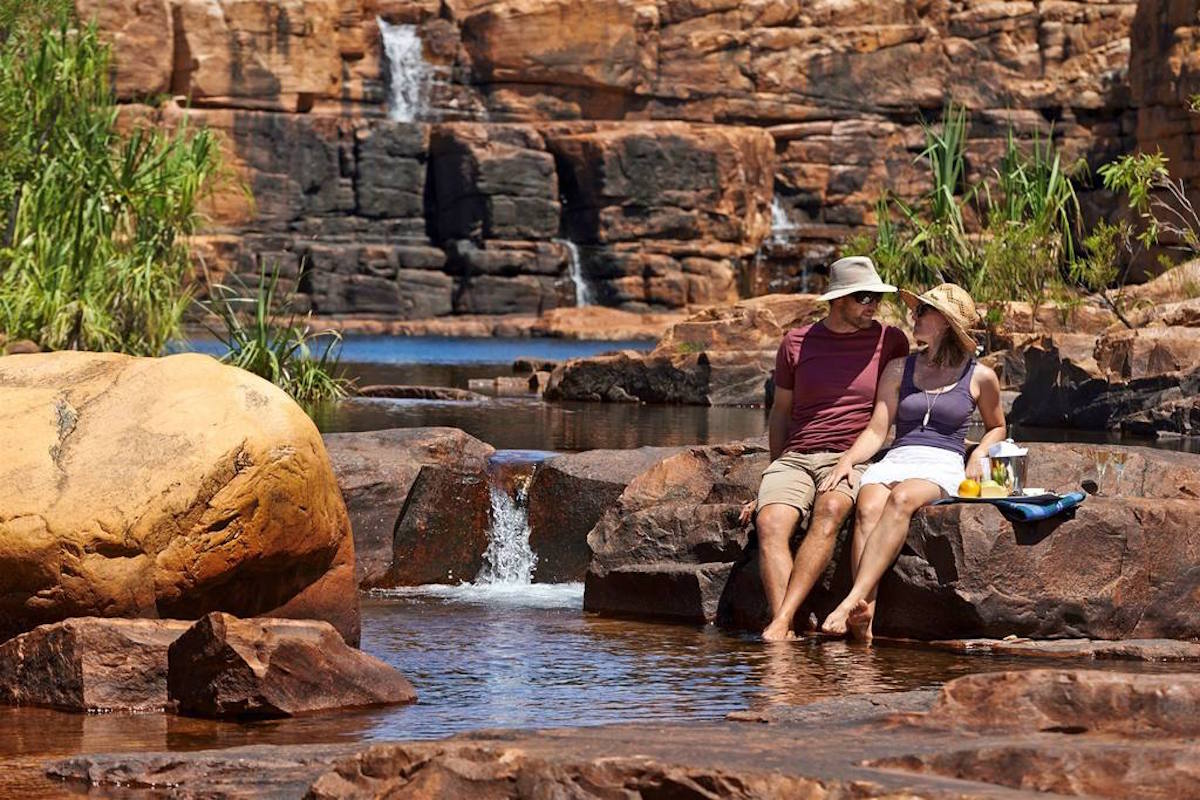 Lift off after breakfast with a delicious picnic on board, prepared by the Berkeley River Lodge chef. Today's flight takes in the remote Kimberley's northern coastline, with craggy cliffs, white coves and plentiful sealife to view from above. Land atop the twin waterfalls of the King George Falls to explore then visit Kalumburu, an Aboriginal community where the mission is still in place with an astonishing museum curated by the Benedictine monks who have spent their lives here. Rounding the top of WA and flying past Steep Head Island you'll come in to land on the shell beach at your home for the next two nights, Kimberley Coastal Camp.
Day 3 – Kimberley Coastal Camp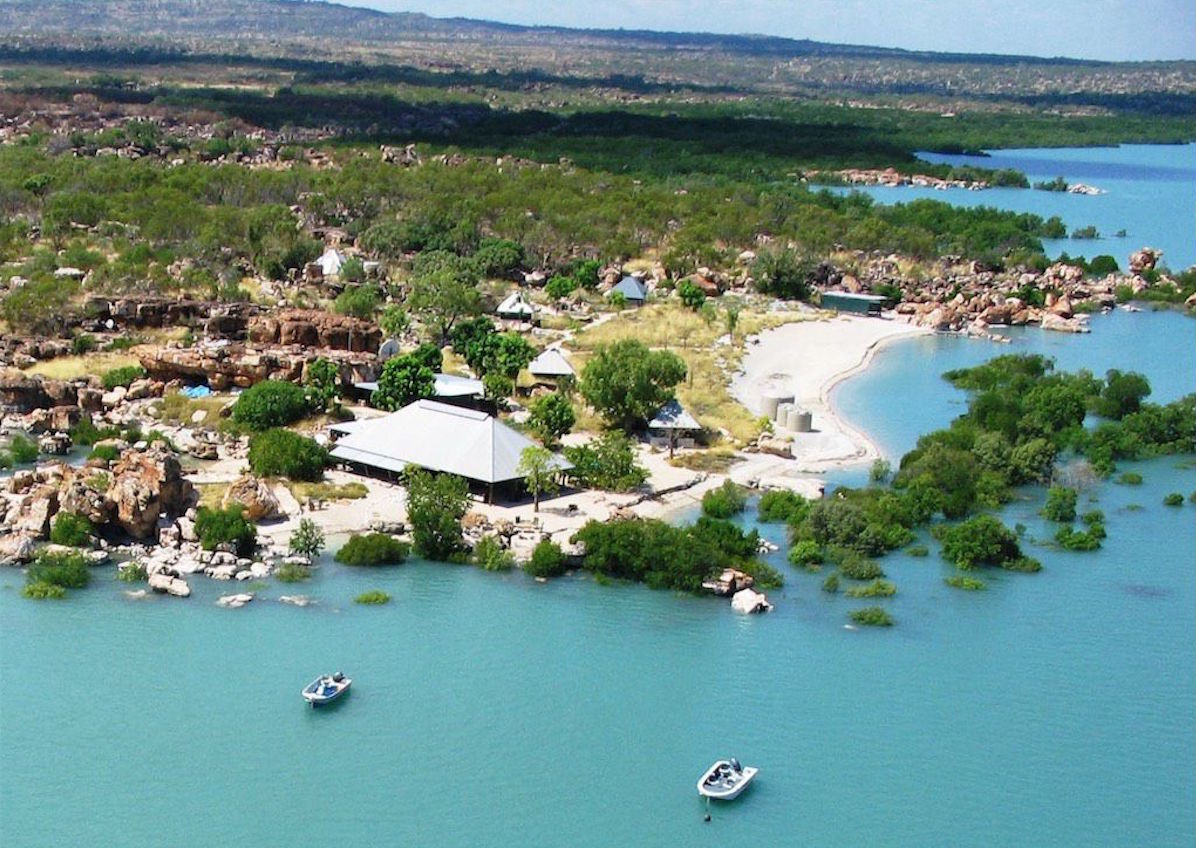 An exclusive retreat limited to just 12 guests, Kimberley Coastal Camp is unpretentious, laid back and set in an exquisite location that is again only accessible by helicopter or boat. Jules and Tub are your hosts who will welcome you into their beautiful home at the far north west corner of Australia. Jules is an incredibly talented chef and prepares all sorts of delicious meals. Tub will take you out on the water to fish, explore and forage for oysters, then cook it up for lunch on a pristine beach. There are plenty of activities to keep you busy here on your 'no fly day', from fishing – the Admiralty Gulf is recognised as one of the best fishing destinations in Australia – to exploring the hidden galleries of exquisite art forms that adorn caves and rock panels throughout Yalrundair.
Day 4: Kimberley Coastal Camp to Mitchell Falls, Prince Regent River and El Questro
Today's adventure will take you along the coast first and then inland. Departing after early breakfast you'll soar over the Mitchell Plateau to orbit over and land at the top of the mighty 4-tiered Mitchell Falls. Your pilot will guide you on a walk to get the best of this iconic Australian feature. You'll then fly to the coast and may land at Naturaliste Island, to refuel if necessary, where there's the chance to see turtles. Continue through Prince Frederick Harbour, a natural harbour with bays, coves, spectacular cliffs and mangrove forests.
View pearl farms, the King Cascades flowing into the Prince Regent River, Mt Trafalgar, Mt Waterloo and much more as you continue over rugged inland pastoral leases to Drysdale River Station to refuel, a remote fuel and accommodation stop on the Kalumburu Road. The last leg for the day takes you over the central Kimberley, flying over parts of the Gibb River Road, Home Valley Station and the famous Pentecost River Crossing. The glow of the afternoon sun on the red rocks of the Cockburn Range makes a stunning backdrop to sunset drinks location on top of one of the pinnacles. On sunset you'll fly to El Questro landing on the lawn helipad at the Homestead. Over 800,000 acres in size, El Questro extends for approximately 80 kilometres, most of which has never been explored. The Homestead sits amid a cool oasis shaded by palm trees and tropical greenery, perched atop an escarpment that plummets into the Chamberlain River.
Day 5: El Questro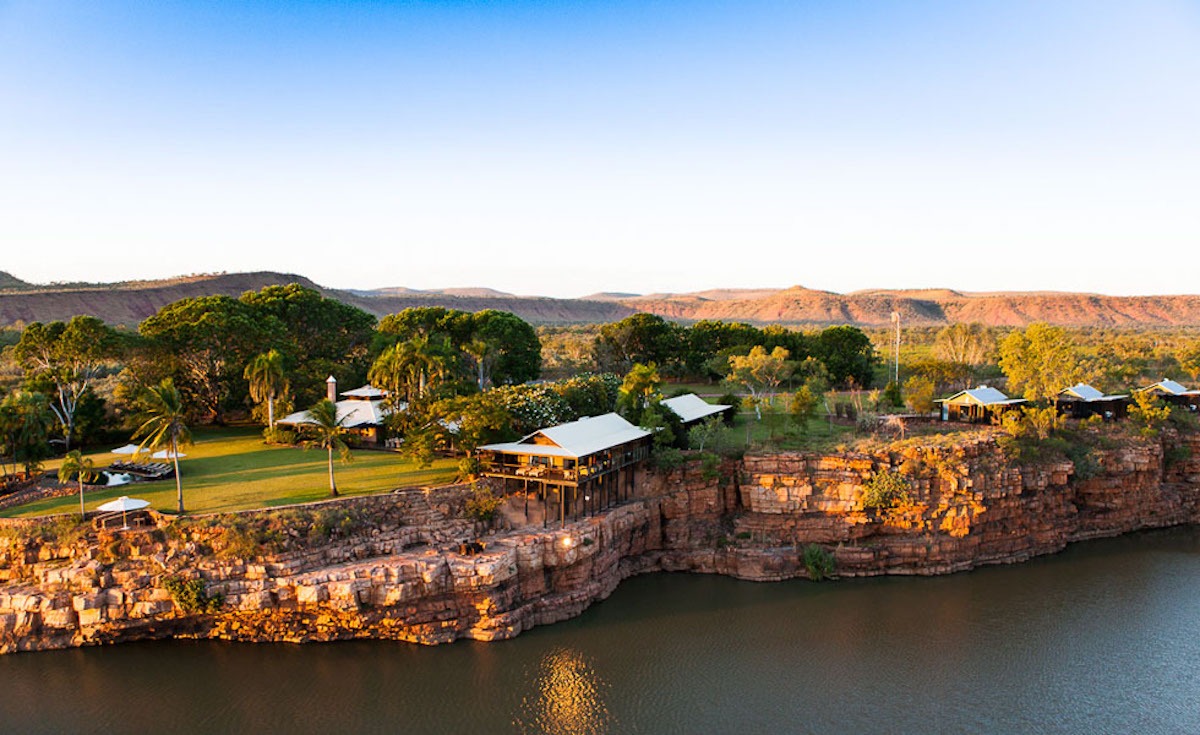 Today is another 'no fly' day, which gives you the chance to relax and enjoy the wide range of complimentary excursions that are included at El Questro – the majority of which are exclusive to Homestead guests.
Day 5: El Questro to Purnululu National Park (Bungle Bungle), Lake Argyle and Kununurra
Lift off from the El Questro Homestead lawn helipad after breakfast to soar out over the Chamberlain River and fly south passing over the Elgee cliffs bordering the Durack River. Explore vast tracts of cattle station empires and marvel at the tenacity of our early pioneers in settling this rugged land. We pass over the traditional lands of the Kija and Djaru people and their community at Warmun, where many famous Aboriginal artists such as Rover Thomas and Queenie McKenzie lived and worked. Your destination is Purnululu National Park, a World Heritage Listed area, celebrated for the valuable cultural and natural assets it holds including the Bungle Bungle Range, a 350 million year old sandstone massif that rises up to 578 metres above sea level.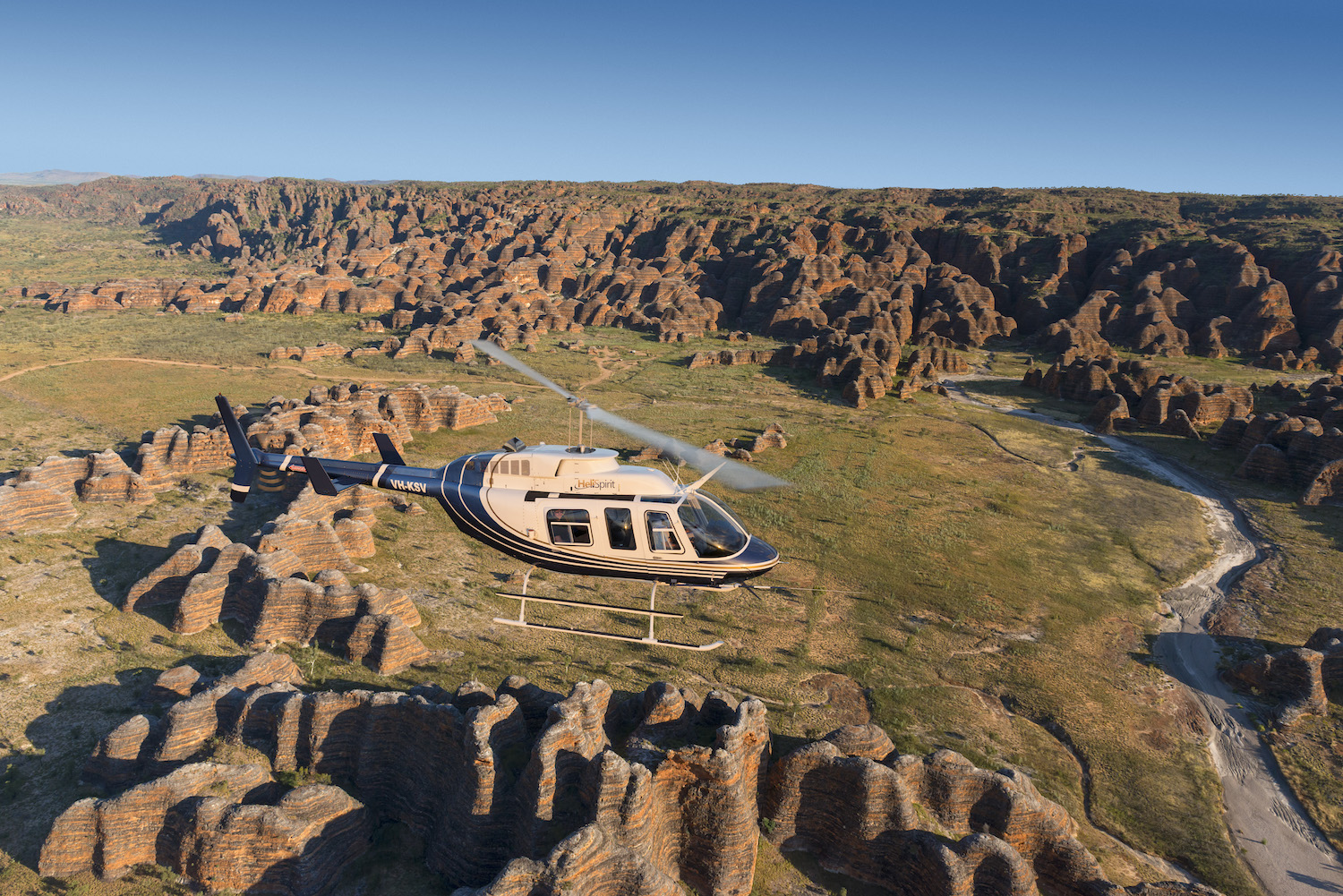 The range stands 200 to 300 metres above a woodland and grass-covered plain, with steep cliffs on the western face. Elsewhere, particularly where Piccaninny Creek has formed Piccaninny Gorge, the range is cut by deep gullies and breaks up into complex areas of ridges and domes, with prominent orange and black or grey bands. Land at Bellburn airfield in Purnululu to join a private overland tour that comprises a drive to the massif and then a guided walk through the striped sandstone domes and further into Cathedral Gorge, named due to its excellent acoustics. Margie is the local guide and her family has lived in the area for literally tens of thousands of years so she knows all the best places. In the afternoon you'll depart Purnululu, flying north over the Argyle Diamond Mine, where rare pink diamonds are found, then over huge Lake Argyle, the biggest manmade lake in the southern hemisphere. Its volume is said to be over 21 times that of Sydney harbour. The surrounding ranges that hold back the freshwater body will be glowing in the late afternoon light. Land on a mountain pinnacle where you can drink a toast to the Kimberley and its spectacular landscape before flying in to Kununurra and the Ord Valley which is always spectacular, an oasis of lush farms, big waters and colourful ranges – a fitting end to your unforgettable helicopter adventure. Your pilot will transfer you to your Kununurra accommodation and say farewell.
These luxury Kimberley Air Safaris operate from April 1st through to October 15th and do not have set departure dates. April and May offer the best time for Barramundi fishing and the waterfalls will be flowing well. The landscape is still green after the monsoonal Wet season. June to August are cooler months, with September and October starting to warm up ahead of the monsoon season. The fleet is varied and will depart with just 2 people or up to 12 people at a maximum, as the destinations you'll stay at are small and exclusive.
For more information about this Private Kimberley Helicopter Safari please get in touch.