The Wild North West (The Kimberley)
The Kimberley is a vast region that is for the most part totally uninhabited. Occupying the north west of Australia it is really only accessible during our winter months from April through to October. The big draw cards are the spectacular coastline, rugged outback wilderness, and the extraordinary assemblage of wildlife. The challenge is always finding a way to explore and experience all three. This is a remarkable part of Australia, and an incredibly unique destination. Below is a crash course on some key regional highlights.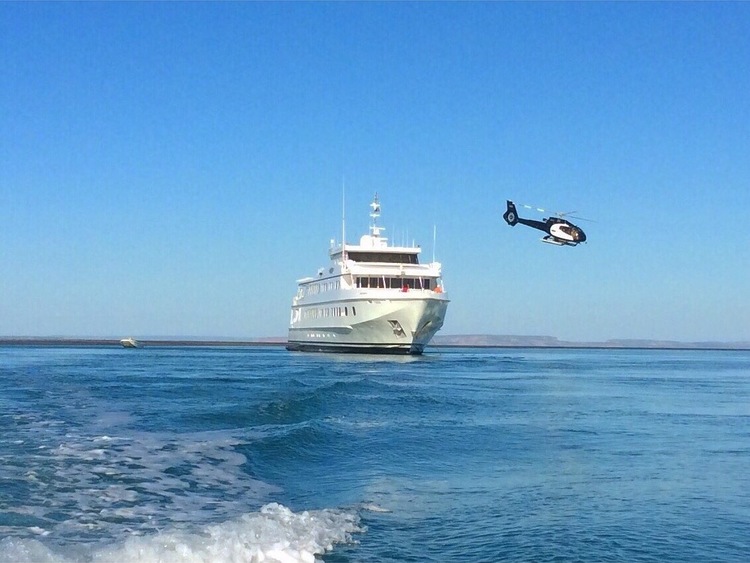 Broome
This is purely a gateway port to start a journey in the Kimberley. The town itself can be covered in an afternoon or one night so not really much need to stay longer than one night – but could do two if you wanted.
Kimberley Coast – Expedition Cruising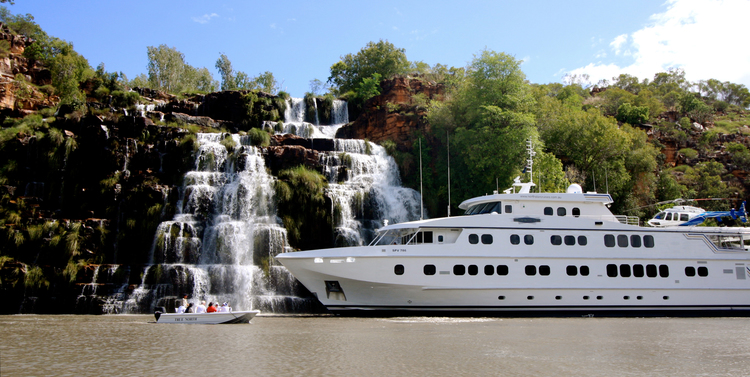 Daily activities can include scenic walks, helicopter flights, fishing, snorkelling, cultural visits, picnics, flora, bird and wildlife watching, diving, exploring and much more… Multiple expedition vessels or 'tenders' take guests in small groups to experience the wilderness 'up close' and, the luxury of having numerous tenders means that everyone onboard has greater opportunity to do "what they want, when they want".
Most cruise options feature an onboard helicopter opening up a whole range of options from scenic flights and heli-picnics to overnight camping adventures. Discover virtually unseen and untouched parts of The Kimberley.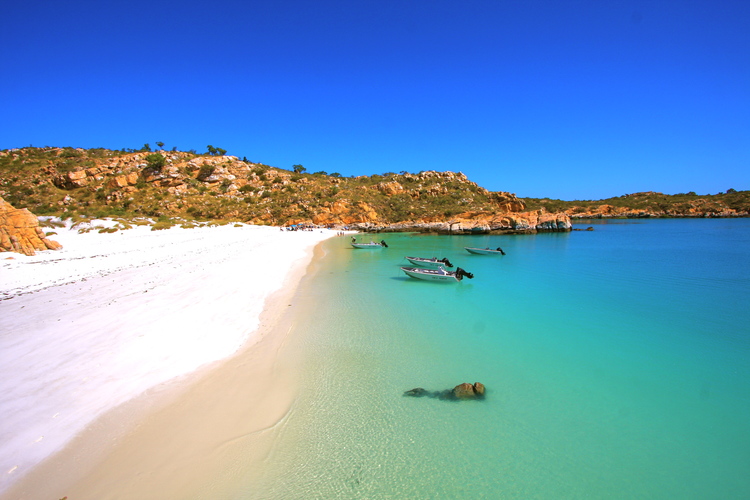 Kimberley Coast – Air Safari
Out of Broome a great way of seeing the Buccaneer Archipelago (one of the most spectacular sections of the Kimberley Coast) is by helicopter or light aircraft. You can fly over this stretch of coast for around three hours and if using a heli could include a stop for lunch at the horizontal waterfalls. The main points of interest include a stop at Cygnet Bay, a working pearl farm, and at the Horizontal waterfalls. True North also covers the same stretch of coast, however doing it by air is a different experience all together, not to mention the time difference. You would then fly down into Mornington Wilderness Sanctuary.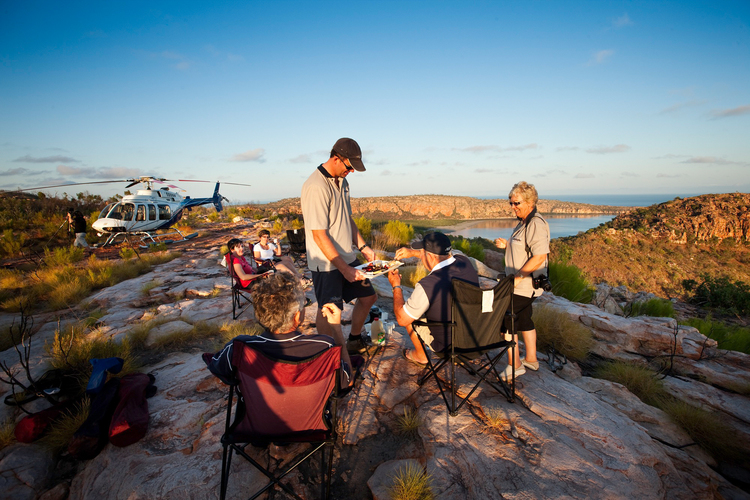 Kimberley Coast – Kimberley Coastal Camp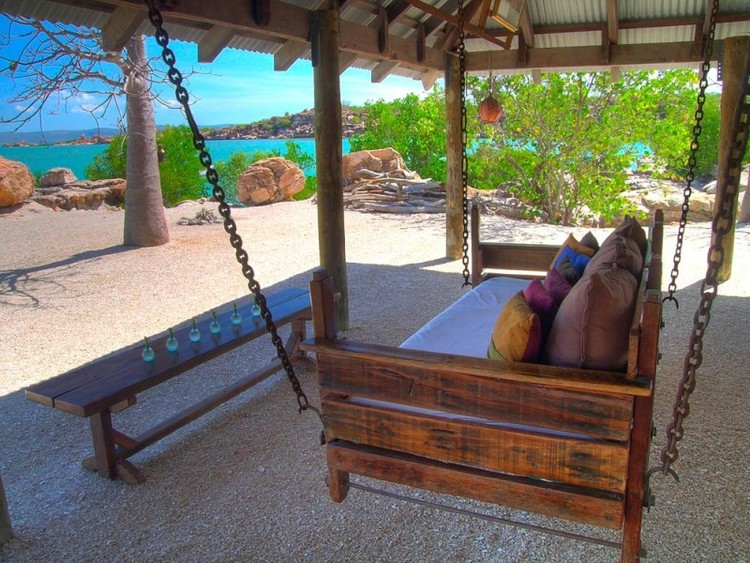 'Crushed coral rustic luxury' is the best way to describe this property. Located along an impressive stretch of the Kimberly Coast this rustic camp is a great experience with good aboriginal art (including Bradshaw and Wandjina Art), great fishing and beautiful coastal scenery. Hugely popular with all our past travellers due to the uniqueness and personalisation of experience. This really isn't offered anywhere else in the region – hands on experiences out exploring with your guides. Accommodation is open air 'shacks' with bare sand/coral floors and open air 'windows' – all looking out onto the water. Small, intimate, and very unique.
Kimberley Outback – El Questro Homestead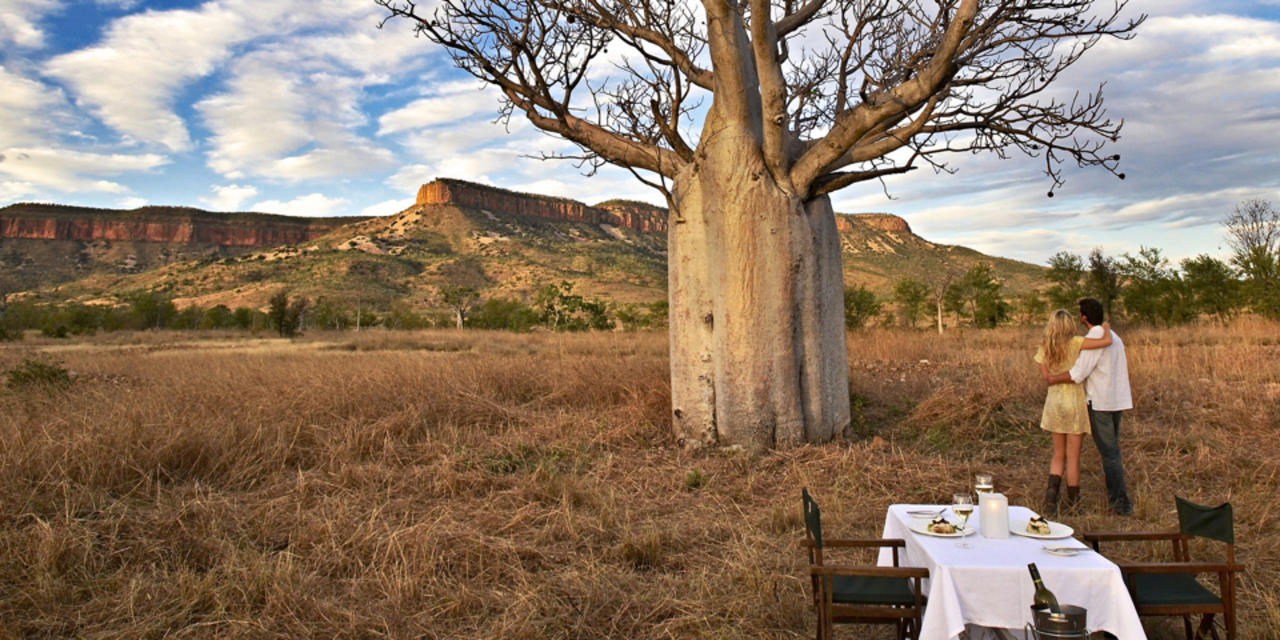 This is a member of Luxury Lodges of Australia, and is by far the most comfortable outback experience in this part of the country. The station has various accommodation options, however the homestead is the only luxurious option. It is a few hours' drive, or a short heli flight from Kununurra. There are a range of on-site activities included in a stay here, as is all your food and beverages.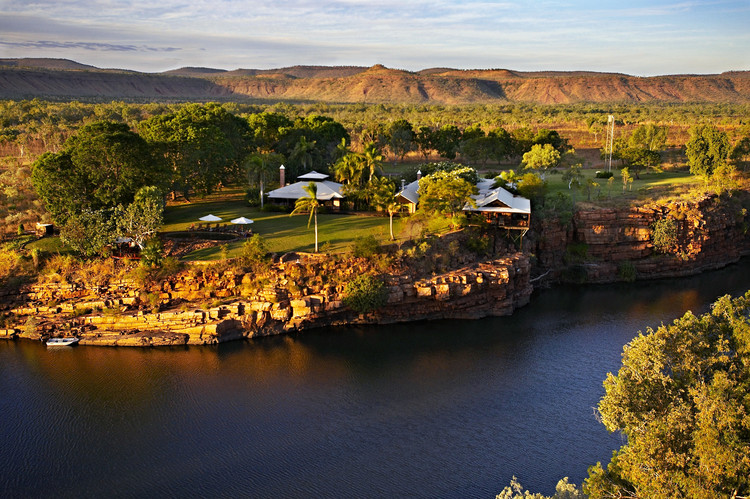 Kimberley Inland – Mornington Downs Wilderness Sanctuary
A very authentic side to this region. Mornington Downs has good African style safari tents, but there is more specific focus on the wildlife conservation work here. This is run by the Australian Wildlife Conservancy who are doing some impressive work in this region, and will show you a very interesting (and to many unknown) side to the conservation battle in Australia. Mornington is the one place in Northern Australia that has managed to reverse the declining mammal populations and the Australian Wildlife Conservancy is the leading private conservation group in the country. This is an opportunity to experience some of the Kimberley's wildlife, and is usually a very rewarding visit.
Click here to find out more about Australian travel with Alquemie