Bamurru Plains, a Luxury Lodges in Australia's Top End is one of the most stunning destinations in Australia. A profusion of bird and wildlife are on the doorstep of this unique bush lodge that brings a touch of style to the discovery of a remote and beautiful wilderness. We talked to the manager of Bamurru Plains to find out more.
Tell us a little bit about Bamurru Plains and what makes it so unique beyond great food, great wine and a very comfortable place to sleep?
Bamurru Plains is located on a 303sq klm pastoral property just to the west of Kakadu National Park in the Northern Territory of Australia. With approx. 1/3 of this property being floodplain and with a saltwater river system and coastline as part of its boundaries the property boasts a huge amount of wildlife and different eco systems all with their own unique story to tell.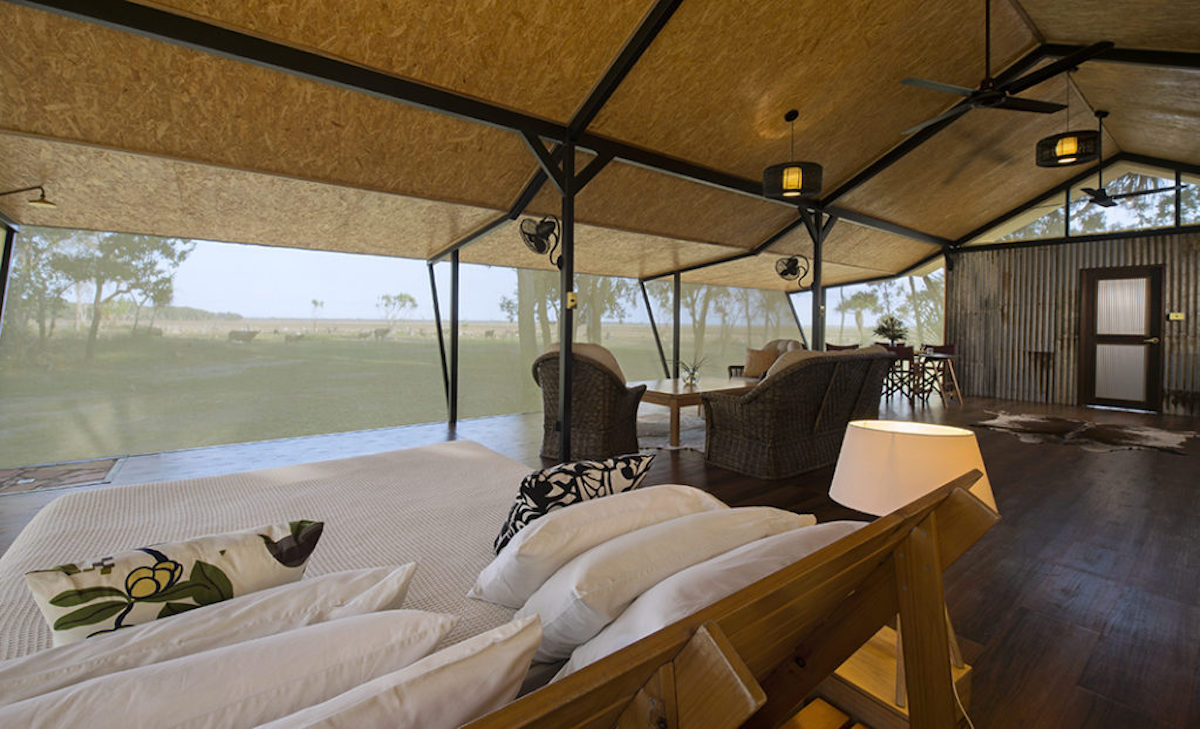 How is Bamurru Plains pushing the boundaries in guest experiences?
I would like to think it is through the deliverance of the experience to the guests. You are not just a spectator on the tour where you simply take photos of a magnificent landscape. It is through the guided experience where guests get to touch, smell, visualise and hear the stories of the environment so that they can take away knowledge as well.
What's a recent (last 6 months) innovation at Bamurru Plains?
We have recently purchased seven Yamaha Grizzly quad bikes for our guests. It allows us to get into areas of the property which our safari vehicles cannot access, which form a guided experience is something unique, but it also allows the guest to be in control of their own machine which has been a winner with the guests.
What activity should guests not miss during their stay at Bamurru Plains?
An airboat tour across the floodplains (weather permitting).
Best dining experience at Bamurru Plains?
It has to be the communal dining experience which we do for every meal at Bamurru Plains. To me I think one of the key fundamental social issues is people do not communicate face to face anymore. Everywhere you look in the cities it is people communicating by phones etc. Whereas at Bamurru people are dining in what I believe to be the true outback way….together at one big table swapping stories of their travels and making in some cases lifelong friendships.
Please describe a typical guest at Bamurru Plains.
There is absolutely nothing typical about our guests. Everyone who stays here has a particular interest and it is up to us as the hosts to find what that is. Similar to our environment it changes daily and so do our guests.
Is Bamurru Plains child friendly?
Yes from 8 years old and above. Some great experiences for kids are doing a quad bike tour with their parents, swimming in the edge pool, an airboat tour across the floodplain or a river cruise spotting the resident saltwater crocodiles.
Is there anything else you'd like to add?
Yes…..see you all soon!
Click here to find out more about Australian travel with Alquemie