From jumping crocs to stunning landscapes to meeting indigenous artists, our 3-day famil trip with Sab Lord of Lord's Safaris had it all. We went from Darwin to Kakadu and back, with a dose of Arnhemland thrown in, and it was so great to finally meet the legend himself in person – he really is larger than life.
Here are some of the highlights…
Jumping crocs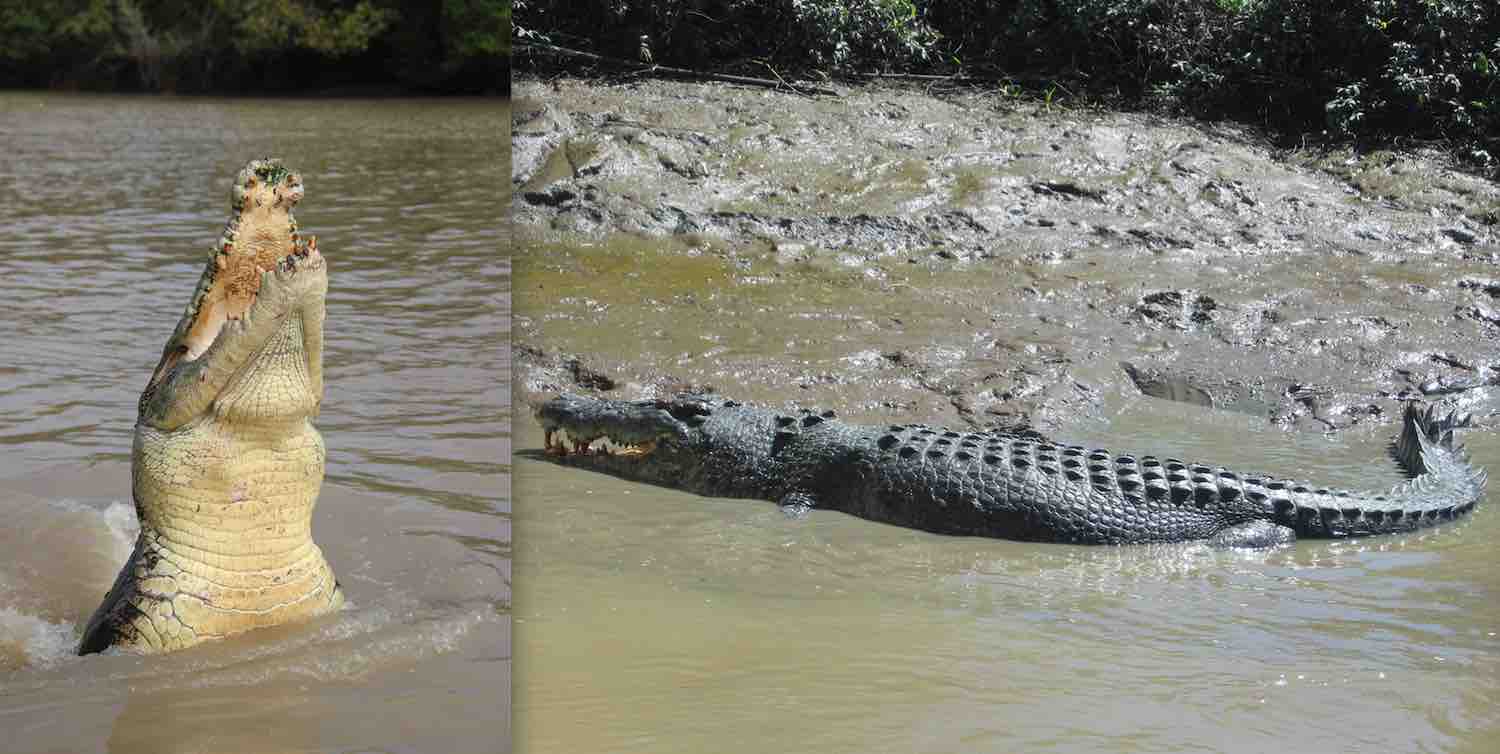 On our way to Kakadu we boarded a vessel on the Adelaide river for a one hour croc spotting cruise. I'm not normally a fan of wildlife tourism where animals can be disrupted from their natural behaviour so I was a bit hesitant but it blew me away. Spot crocs we did! Lots of them. And BIG ones. It was kind of scary but in a thrilling way, and yet in the end I felt a real affection for them, as if they were puppies. Seeing the crocs 'jump' is to witness an almighty power that is just fascinating and commands complete respect of these relics of the dinosaurs. It was a real highlight of the trip.
Sab's Camp in Kakadu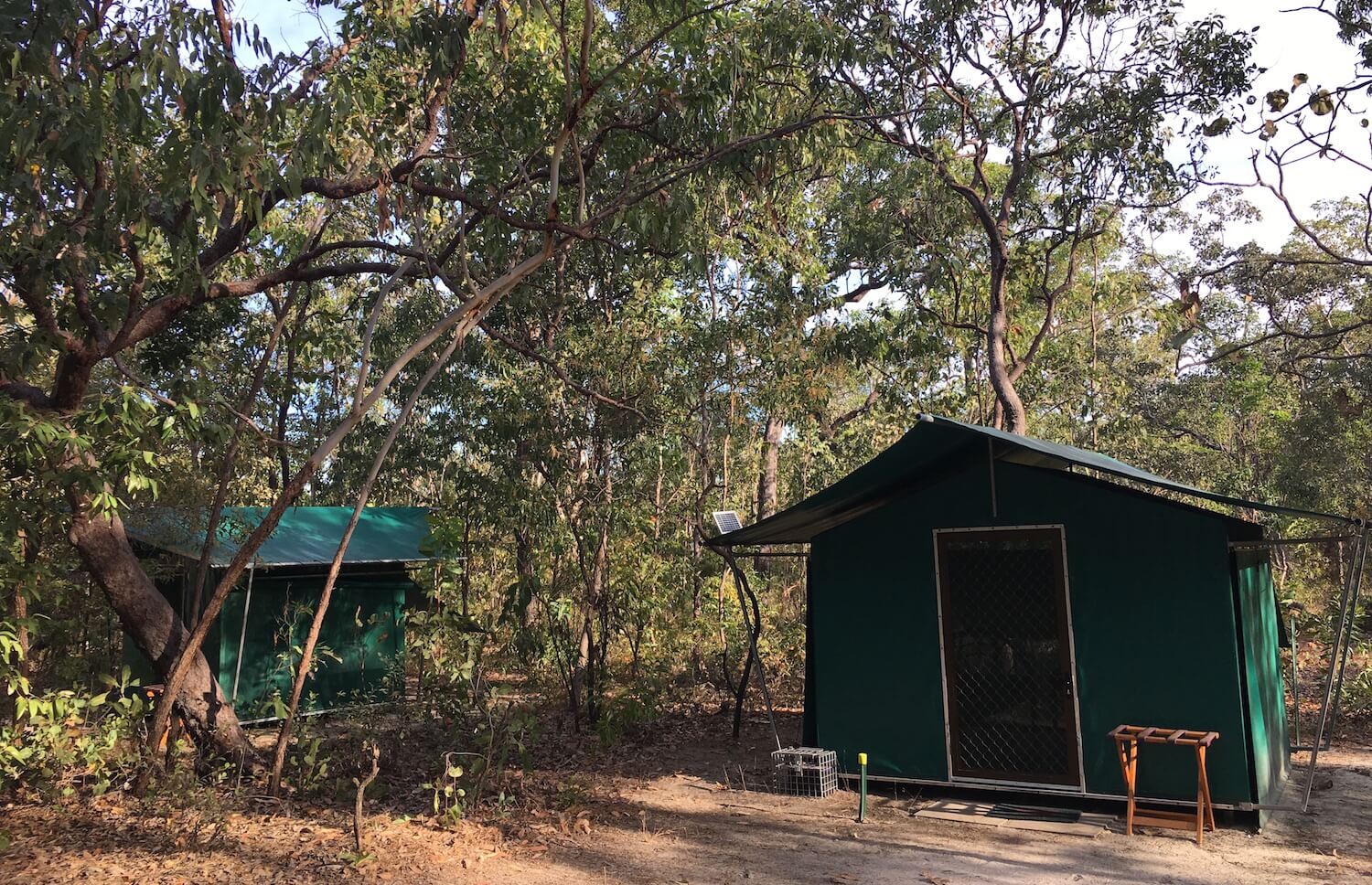 With 8 semi-permanent mesh-sided huts, Lord's Safaris private campsite is a oasis away from the crowds of Kakadu. You are definitely camping but it's very comfortable. We sat around the campfire each evening after our daily excursions, glass of wine in hand, as Sab expertly cooked us dinner (how one cooks a roast beef with veg to perfection over a fire pit I'll never know!) and related stories of his childhood growing up in the area. My twin-bed was extremely comfortable and I slept like a baby although as a city girl, going to sleep to the sounds of only the bush took a bit of getting used to. One night we heard dingoes howling – quite an eerie sound – but that's all part of the reason we had come here, to get closer to nature. Waking up in the morning as the daylight began to filter through the mesh walls, was a lovely experience, as was our delicious bacon and eggs for breakfast, once again cooked perfectly by Sab over the campfire.
Swimming atop a gorgeous waterfall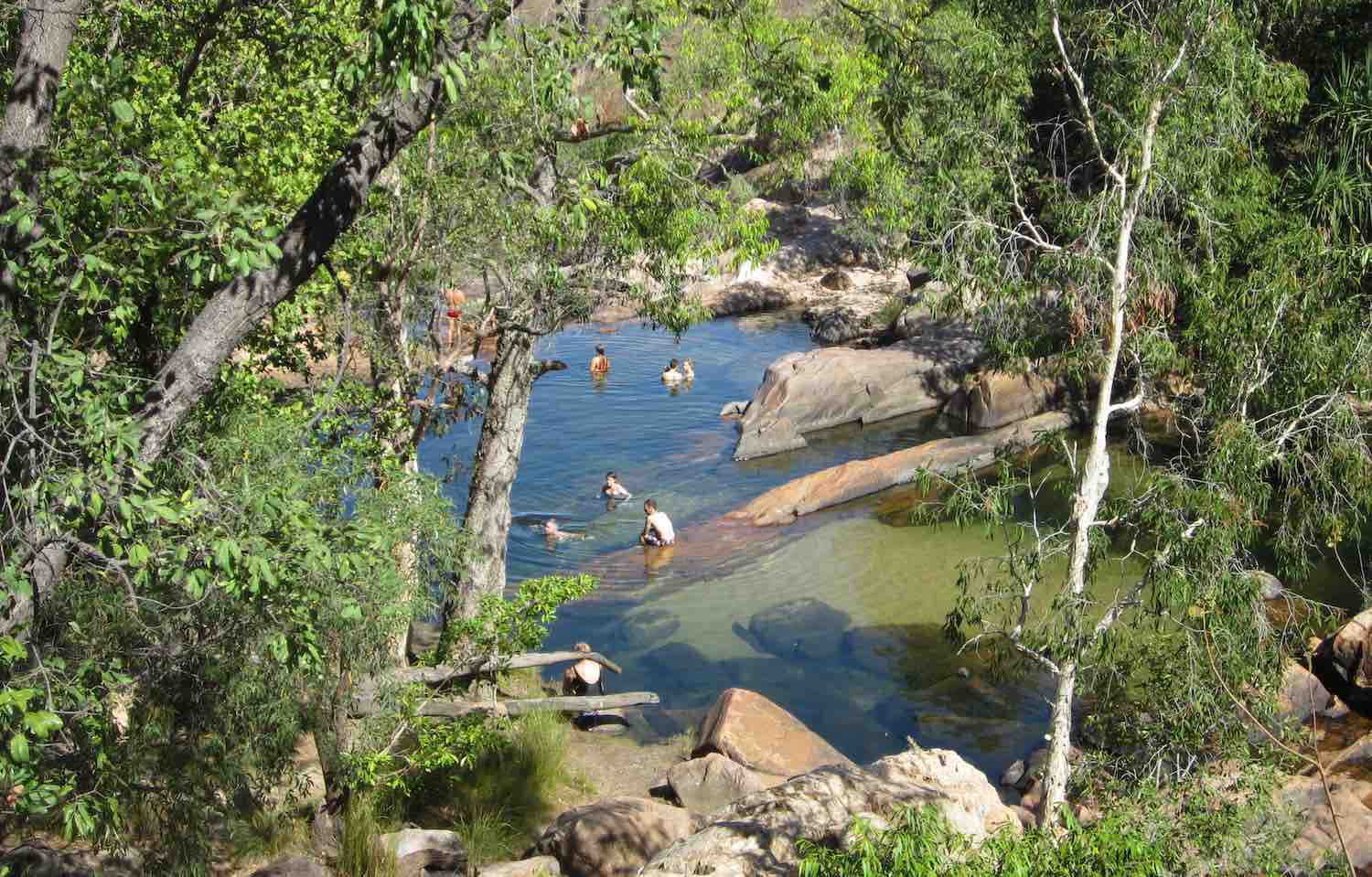 Kakadu is dotted with incredible waterholes and Sab knows exactly where to take his guests to wow them. We spent a good few hours at Gunlom Falls – it was a steep but short climb to the top and we were rewarded with some stunning natural swimming holes that fed a large 70 metre waterfall. We swam and had a picnic lunch, enjoying views as far as the eye could see over Kakadu and relishing the cool water on a hot day.  Upon decent we visited the lagoon at the bottom of the waterfall (famous for a scene in Crocodile Dundee) which we decided was even more beautiful than where we had just been, and we jumped in for another swim.
 Yellow Water Sunset Cruise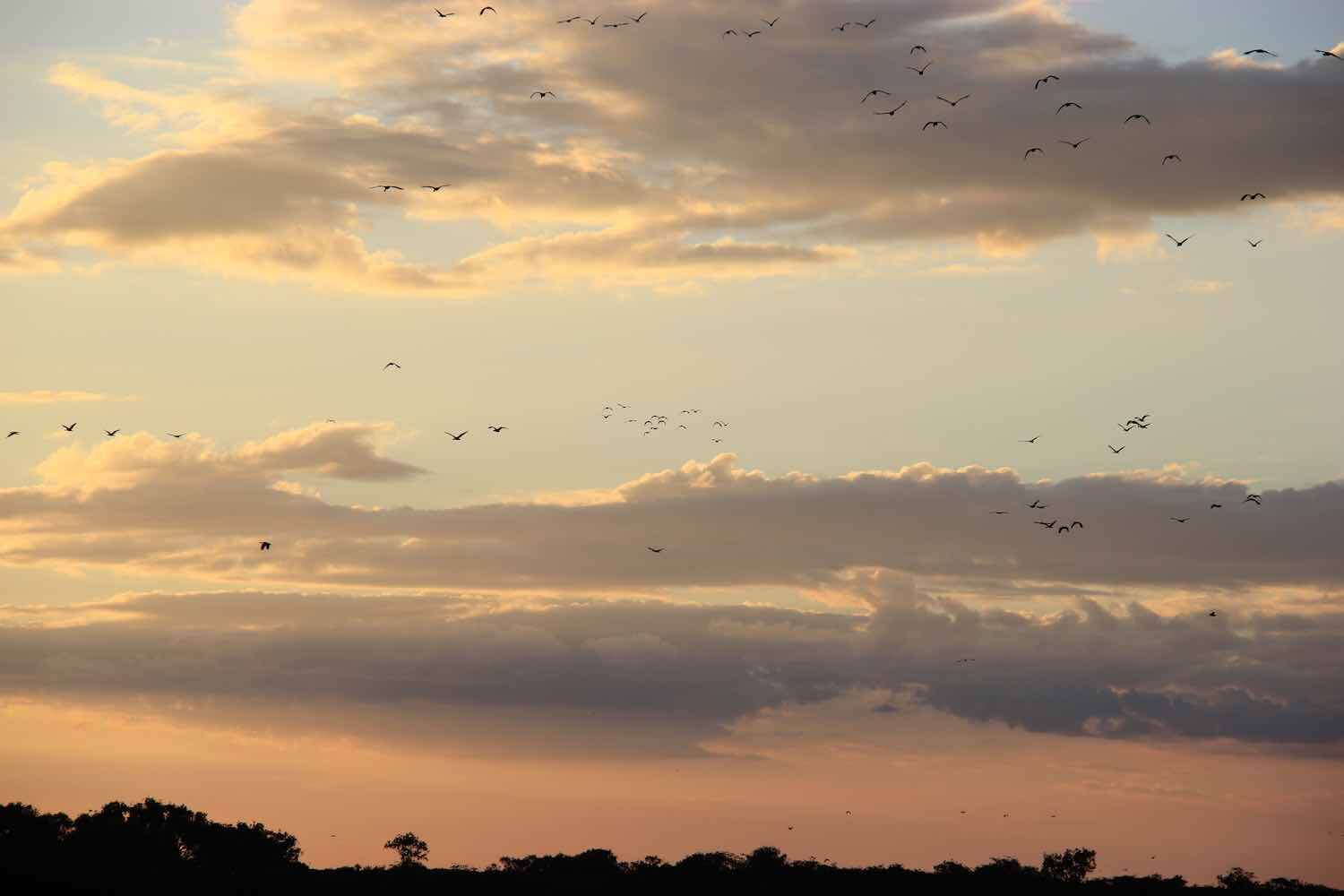 If you've only got time for one or two things whilst in Kakadu I would highly recommend the Yellow Water sunset cruise. It's just gorgeous. The stillness of the water, the prolific bird life, the bright green of the grasses contrasting with the pink flowers of the water lilies and the blue of the sky, the occasional croc cruising alongside our boat and finally watching the sun set and the water reflect its orange glow all added up to a truly beautiful experience.
Injalak Rock Art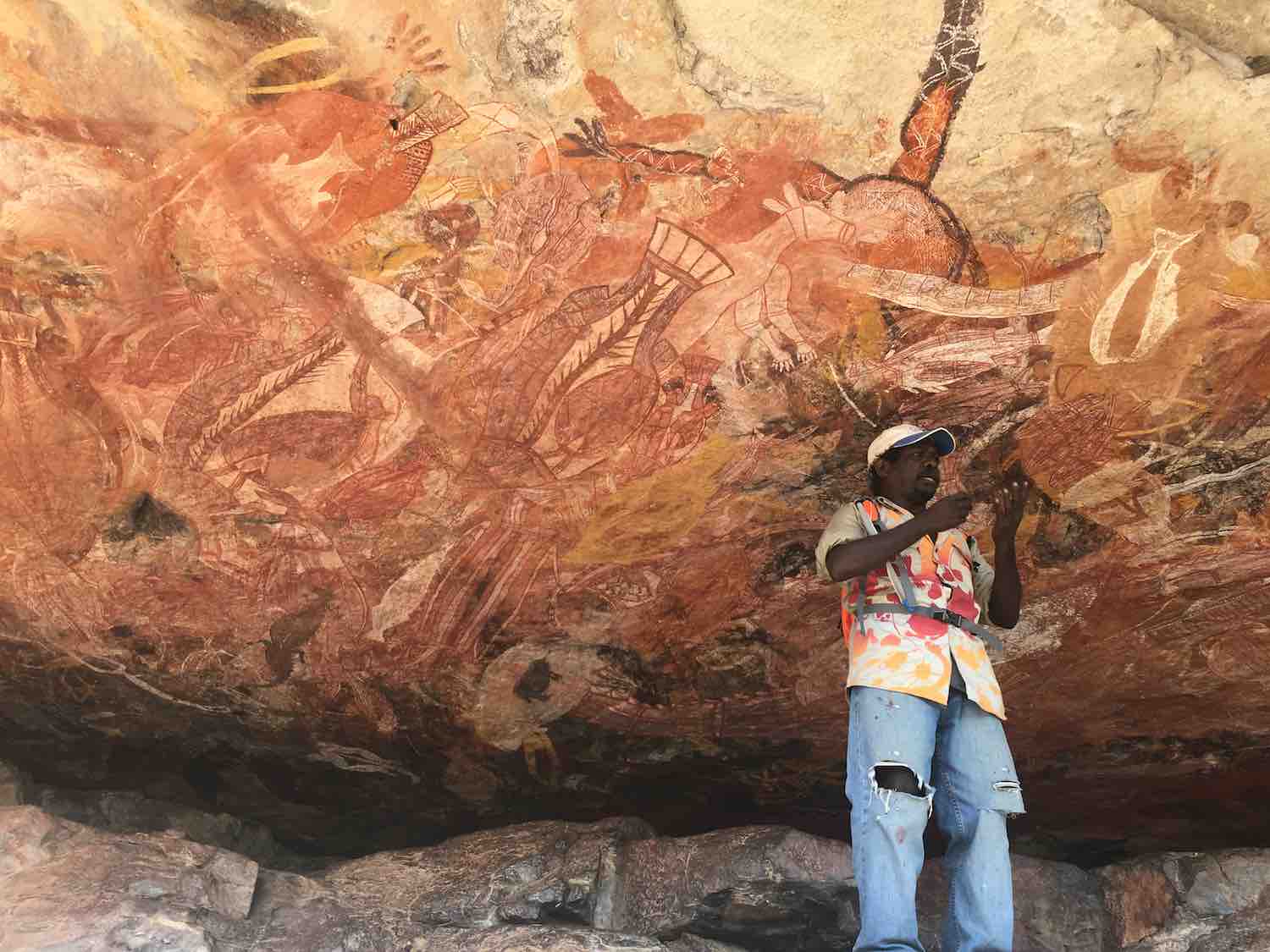 After an exciting river crossing in Sab's 4×4 we headed into Arnhemland where we were given permission to see some of Australia's most outstanding ancient rock art galleries at Injalak near Gunbalanya. Our local guide Roland, himself an artist, showed us the extensive art works that range between 100 and 8,000 years old. He taught us the stories and the meanings behind the art and how they were created using natural materials. We were also taken to an ancient burial site where a skeleton still remains, and our entire group felt very privileged to have had this experience.
The main man from Lord's Safaris – Sab himself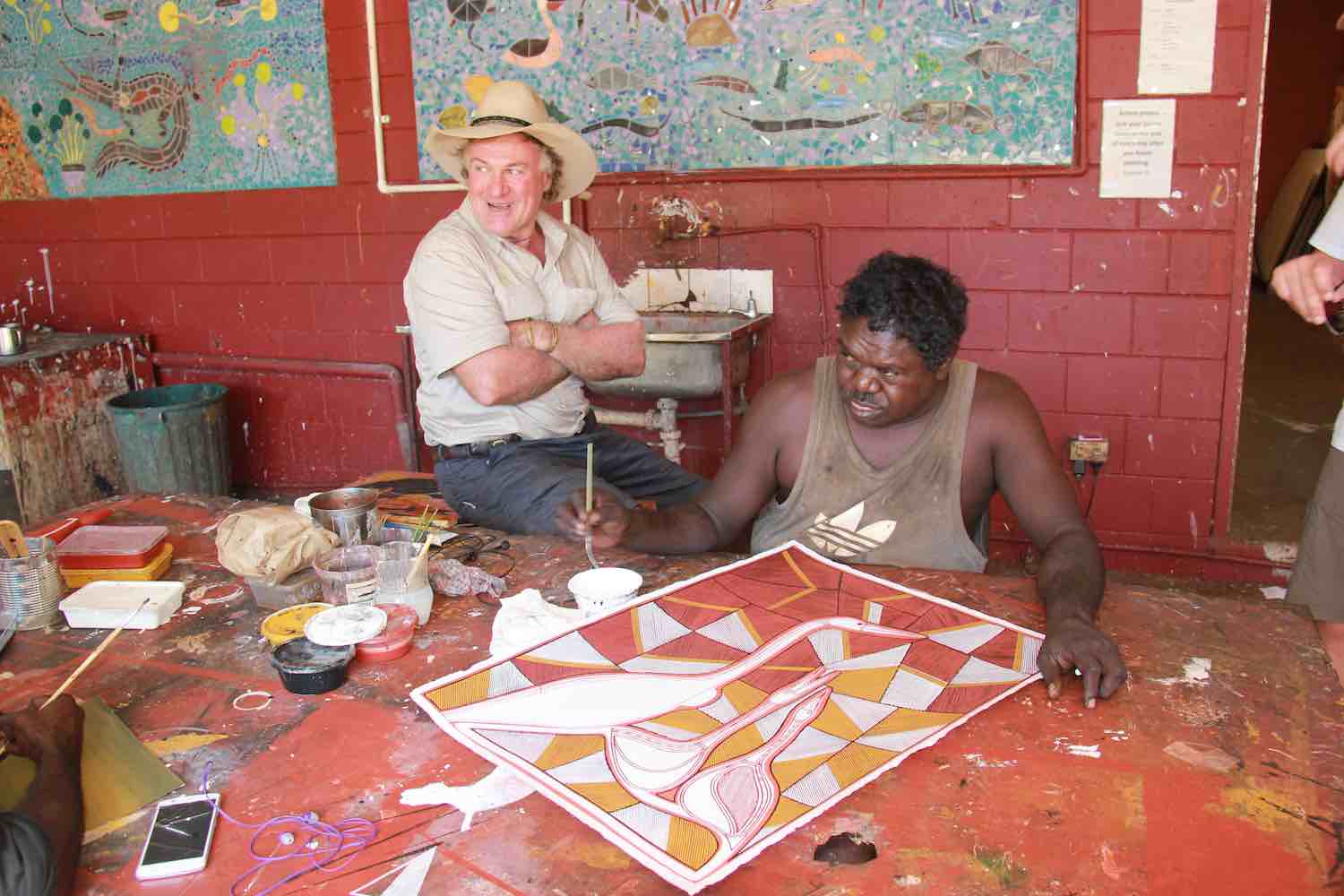 Of course the final highlight of the trip was Sab Lord himself. What a character! He's a true Aussie larrikin whose cheeky spirit, relaxed nature and infinite knowledge of the region makes him on of Australia's best guides. To find out more about him click here. >   A big thanks to Sab and the team at Lord's safaris for a wonderful trip and showing us his world – it really was terrific.
by Nicola Billens